WASHINGTON - The military's reliance on unmanned aircraft that can watch, hunt and sometimes kill insurgents has soared to more than 500,000 hours in the air, largely in Iraq, The Associated Press has learned. And new Defense Department figures obtained by The AP show that the Air Force more than doubled its monthly use of drones between January and October, forcing it to take pilots out of the air and shift them to remote flying duty to meet part of the demand.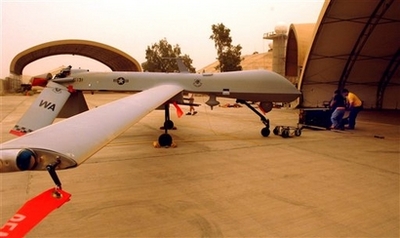 In this undated image provided by the US Air Force Ben Roserug and Jim Dooley unload an AGM-114 Hellfire missile from an MQ-1 Predator unmanned aerial vehicle after a mission in May at Balad Air Base, Iraq. [Agencies] 
The dramatic increase in the development and use of drones across the armed services reflects what will be an even more aggressive effort over the next 25 years, according to the new report.
The jump in Iraq coincided with the build up of US forces this summer as the military swelled its ranks to quell the violence in Baghdad. But Pentagon officials said that even as troops begin to slowly come home this year, the use of Predators, Global Hawks, Shadows and Ravens will not likely slow.
"I think right now the demand for the capability that the unmanned system provides is only increasing," said Army Col. Bob Quackenbush, deputy director for Army Aviation. "Even as the surge ends, I suspect the deployment of the unmanned systems will not go down, particularly for larger systems."
For some Air Force pilots, that means climbing out of the cockpit and heading to places such as Nellis Air Force Base in Nevada, where they can remotely fly the Predators, one of the larger and more sophisticated unmanned aircraft.
About 120 Air Force pilots were recently transferred to staff the drones to keep pace with demands, the Air Force said.
Some National Guard members were also called up to staff the flights. And more will be doing that in the coming months, as the Air Force adds bases where pilots can remotely fly the aircraft. Locations include North Dakota, Texas, Arizona and California, and some are already operating.