New York/London - Oil and gold both lost momentum on Friday, as they digested the week's volatility on their respective treks to all-time and 28-year peaks, but supply worries for oil, inflation fears for gold, and dollar weakness should propel both to landmark highs, analysts said.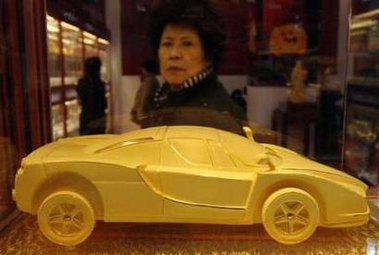 A woman looks at a gold car on display at China International Jewellery Fair in Beijing November 5, 2007. Gold dropped on Monday to track sliding crude oil prices but held firm above $800 due to a weak U.S. dollar and strong fundamentals, which could soon help the metal retest a record high of $850. [Agencies] 
Base metals shrugged off initial gains on the prospect of less supply from a possible merger between BHP Billiton and Rio Tinto, two of the world's leading metal miners.
Instead, copper tumbled 3 percent to 12-week lows as signs of softening demand in top metal consumer China and concerns US economic growth may falter weighed on sentiment.
Crude oil prices rose above $96 per barrel, within sight of the $100 psychological milestone, on winter fuel supply worries dollar dip to record lows, and options plays betting oil could strike $100 next week.
"I think the one thing people are continuing to eye is the options expiration," said Eric Wittenauer, analyst at AG Edwards in St. Louis. "I think people would be hesitant to sell into this market."
US crude for December delivery settled up 86 cents at $96.32 a barrel, off earlier highs of $96.68. London Brent crude climbed 39 cents to $93.18.
Loss of North Sea production from storm damage and a diesel refinery outage in Texas raised worries of supply shortages, though were not expected to be as severe as initially feared.
Gold was similarly well-positioned, finishing flat though within sight of 28-year peak hit earlier this week above $840.
Spot gold rose to $838.90 an ounce but was quoted at $832.30/833.10 by 2:15 pm (1915 GMT), against $832.10/832.85 in New York late Thursday, on course for the $850 record high reached in January 1980.
"The market is following the dollar and people are waiting for gold to hit $850 an ounce. Sentiment is still bullish as the market expects more cuts in US interest rates and further weakness in the dollar," said Michael Blumenroth, metals trader at Deutsche Bank.
Worries that US financial firms and the wider US economy may face further fallout from credit market strains have sent investors to both oil and gold as they flee equity markets and the dollar.
US economic data suggesting a slowdown in the world's largest economy, signs of easing Chinese demand, and rising metal inventories, dragged copper prices down more than 10 percent since the start of the month.
On Friday, copper fell 3 percent to mid-August lows.
Copper for delivery in three months on the London Metal Exchange fell to $6,963 per tonne, its lowest level since August 21, and closed at $7,040, down $160 from Thursday.
At the COMEX division of the New York Mercantile Exchange, copper for December delivery settled down 5.85 cents at $3.1455 a lb, after dealing between $3.2375 and $3.11, its lowest level since August 17.
On the Chicago Board of Trade, the grains and soy complex finished mixed. December wheat settled even at $7.62 per bushel after hitting a two-month low early on bearish data from a monthly U.S. government crop report.
Profit takers sent CBOT corn and soybeans lower at the open, and while corn stayed down, the spot soybean contract later rallied to a three-year high on a smaller USDA crop outlook.