KABUL -- A total of 59 children and five teachers were among the 75 people killed in the suicide attack in northern Afghanistan on Tuesday, the education ministry said Friday.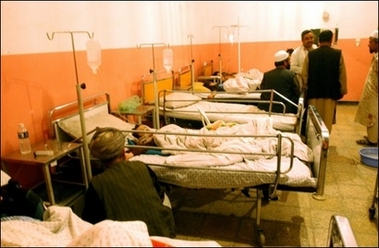 Afghan suicide blast victims in hospital on November 6, 2007. A suicide attack in Afghanistan this week killed 59 children and five teachers, the education ministry said, taking the death toll to 75 in the deadliest attack in the insurgency-hit country. [Agencies]
Among the killed were also six lawmakers and five bodyguards in the blast in the northern province of Baghlan, about 150 kilometers north of Kabul.
A group of parliamentarians were visiting a sugar factory in Baghlan province when a suicide attacker detonated a bomb.
Many school children were welcoming the parliamentarians at the gate of the factory when the bomb blasted.
There was no immediate claim of responsibility for the blast. However, Qari Yousuf Ahmadi, a purported Taliban spokesman, said earl, "Taliban has nothing to do with that."
Conflicts and Taliban-related violence have claimed the lives of more than 5,500 people mostly insurgents so far this year in the war-torn Afghanistan, according to officials.