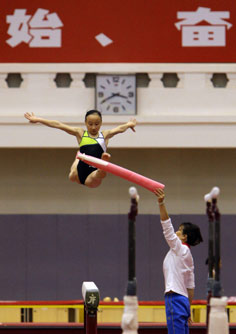 A gymnast jumps above a foam rod held by a coach during a training session at the General Administration of Sport in Beijing November 9, 2007. [Agencies]
China's top sports official kept a low tone at Team China's medal perspective at the forthcoming Olympics by denying the ambition to lead the medal tally in Beijing on Friday.
"We have never said that we wanted to take the first position of the gold medal table," said Cui Dalin, Vice Minister of China's General Administration of Sport and Vice President of the Chinese Olympic Committee, at the press briefing about the preparations of the Chinese athletes toward the Olympics next year.
"It is unrealistic for us to earn more gold medals than the United States, which had won more and more golds in major international competitions in the past three years, so I have to say that the gap between China and the United States has been even larger."
China had its first Olympic gold medal in Los Angles in 1984 and won 32 gold medals in Athens 2004, more than any other teams except the United States.
Expectations for Team China to topple the superpower of the United States in 2008 thus had been arisen, when Olympic Games is to be held for the first time on their home soil.
"The United States got 31 gold medals from track and field and swimming pools  this year, showing their dominative abilities in those two biggest storehouse, where China has little hope of gold medals except for Liu Xiang's 110m hurdles," said Cui. "As for Russia, they had won gold medals in 64 sports in the past three years, which is a lot more than we did."
However, Cui did not mention the number of gold medals Chinese athletes had won, but only pointed out the advantages of Team China maintained in diving, table tennis, shooting, women's taekwondo and weightlifting, which earned a total of 18 golds for China in 2004.
"In those sports, foreign athletes have made more progress than we have and are much more of a challenge for our athletes," said Cui.
The diving team, which took six out of eight golds in Athens, is one of the "dream team" in China's Olympic squad.
"Ten of our 14 divers, competing in the World Championships in Melbourne in March, had their international debut there," said Li Hua, Director General of Swimming Administrative Center. The divers grabbed nine out of ten golds on offer in Melbourne, with men's 10m platform the only nick.
"Those young athletes have to face great challenges next year when they compete as the host," Li added.
To be the host has been recognized as a "two-edge sword" to Team China. "Joining the Games as the host nation produces significant psychological pressures for our athletes to overcome, for example, they will be more nervous when there are relatives and friends watching," said Cui. "These pressures have increased the difficulty of our athletes to win gold medals on many of our superior sports like shooting, gymnastics and diving."
Chinese athletes have made breakthroughs in some sports such as boxing, rowing, sailing, fencing, men's wrestling, pentathlon and trampoline, but the results are considered as fluid by China's officials.
Liu Xiang, defending champion and world record holder of the men's 110m hurdles is the only star in China's track and field team.
"We will also strive for golds in women's marathon and walk," said Luo Chaoyi, Director General of Athletics Administrative Center.
However, the declarations of the Chinese officials were partly considered as a way to release the pressures of the athletes.