HYDERABAD - A pair of bombings minutes apart tore through a popular family restaurant and an outdoor arena Saturday night, killing at least 37 people in this southern Indian city plagued by Hindu-Muslim tensions.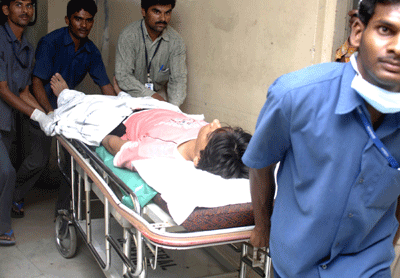 Medics move a person injured in a bomb blast on a stretcher, at a hospital in Lumbini Park in the southern Indian city of Hyderabad August 25, 2007.
[Reuters] 
The restaurant was destroyed by the bomb placed at the entrance. Blood-covered tin plates and broken glasses littered the road outside.
The other blast struck a laser show at an auditorium in Lumbini park, leaving pools of blood and dead bodies between rows of seats punctured by shrapnel. Some seats were hurled 30 meters (100 feet) away.
"We heard the blast and people started running out past us. Many of them had blood streaming off them," said P.K. Verghese, the security manager at the laser show. "It was complete chaos. We had to remove the security barriers so people could get out."
Most of the dead were killed in the Gokul Chat restaurant at Hyderabad's Kothi market, said K. Jana Reddy, the state home minister. Some 50 people were injured in the two blasts.
While Indian officials often blame Muslim militants for bomb attacks, there were no immediate accusations against Islamic groups in the blasts. The two spots are popular with both Hindus and Muslims.
Hindu-Muslim animosity runs deep in Hyderabad, where a bombing at a historic mosque killed 11 people in May. Another five people died in subsequent clashes between security forces and Muslim protestors angered by what they said was a lack of police protection.
Two other bombs were defused in the city Saturday, one under a footbridge in the busy Bilsukh Nagar commercial area, and another in a movie theater in the Narayanguba neighborhood, a police official said. Late-night movie showings were canceled across the city.
"This is a terrorist act," said Y.S. Rajasekhara Reddy, the chief minister for Andhra Pradesh state, where Hyderabad is located.