ZACHARO - Greece declared a nationwide state of emergency after the country's worst forest fires in decades killed at least 47 people and trapped many more in villages surrounded by flames.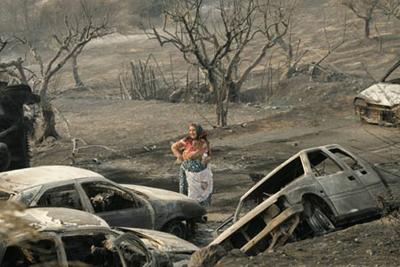 An elderly woman stands amongst burnt cars in the village of Artemida in Peloponnese peninsula, southwest of Athens Aug. 25, 2007. [Xinhua/Reuters Photo]
With swathes of the Peloponnese peninsula, the island of Evia and parts of eastern suburbs of Athens burning, thousands fled and hundreds of homes and businesses went up in flames, along with tens of thousands of acres (hectares) of forest.
Prime Minister Costas Karamanlis said on Saturday the rash of forest fires "can't be a coincidence". He vowed the culprits would be found and punished, implying arsonists were responsible for the deadly blazes since Friday.
"All regions of the country are declared in a state of emergency in order to mobilise all means and forces to face this disaster," he said in a televised address to the nation.
Politicians interrupted campaigning for a September election, flags were ordered to fly at half mast for a three-day mourning period and Karamanlis said Greece was suffering an "indescribable national tragedy".
Church bells tolled as hundreds of villages were evacuated and residents used garden hoses and buckets in a futile effort to save their homes from the raging fires.
"The fire is racing towards the town," a resident of the southern town of Aliveri on Evia told Greek television. "We are leaving or else we will burn to death. There is no one to help us," the man said.
People fled in cars, trucks and boats, while ferries from Evia were taking people to the mainland near Athens.
Ash blanketed the centre of Athens, making breathing difficult, and fires fanned by strong winds raced through dozens of houses in the suburbs of Keratea and Kalyvia. Factories were also set ablaze.
"This is complete hell," Kalyvia mayor Petros Filippou told reporters. "The front is 30 km long and has now reached the first houses. That's it."
Police evacuated a monastery and closed the motorway from the capital to the main airport for several hours.
The fire department said the official death toll had risen to 47, including several children. More were feared dead as many villages remained cut off by walls of flame.
Rescuers said they had found bodies by the side of roads, in burned-out homes and in cars, including a mother still clutching her children.