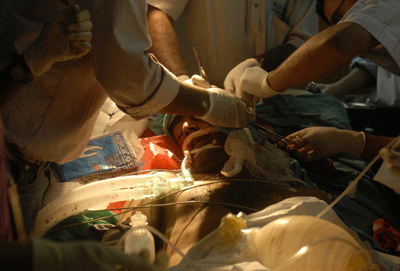 Medics treat a person injured in a bomb blast at a hospital near Lumbini Park in the southern Indian city of Hyderabad August 25, 2007.
[Reuters] 
Much of India's Hindu-Muslim animosity is rooted in disputes over the Himalayan territory of Kashmir, divided between India and mostly Muslim Pakistan but claimed in its entirety by both countries. More than a dozen Islamic insurgent groups are fighting for Kashmir's independence or its merger with Pakistan.
More than 80 percent of India's 1.1 billion people are Hindu and 13 percent are Muslim. But in Hyderabad, Muslims make up 40 percent of the population of 7 million.
Little progress has been made in the investigation into the May mosque bombing. Underlying the divide, Muslim leaders have said they do not trust local police to handle the investigation into the attack.
A series of terrorist bombings have ripped across India in the past two years. In July 2006, bombs in seven Mumbai commuter trains killed more than 200 people, attacks blamed on Pakistan-based Muslim militants.