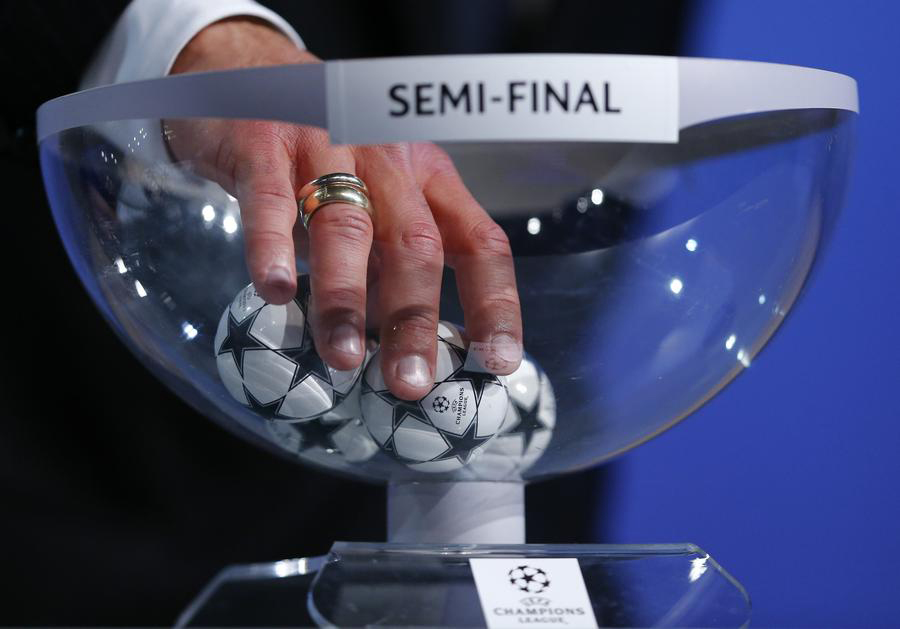 Champions League final ambassador Luis Figo picks up a ball during the draw for the Champions League semifinals matches at the UEFA headquarters in Nyon, April 11, 2014. The final will be played May 24, 2014 in Lisbon. [Photo/Agencies]
MADRID - Real Madrid hope to beat Bayern although the latter could be favorite, Real Madrid's coach Carlo Ancelotti said on Friday.
Ancelotti made this statement at a press conference in Madrid after UEFA Champions League semifinal draw that showed Real Madrid would face Bayern Munich and Atletico would play against Chelsea.
He was optimistic about the draw when saying "it was a good draw, because we were in it. We have been drawn against a complicated side but we are confident of putting in a good performance". He added that the team "will need to show a good attitude in both legs and count on strong support at the Bernabeu".
He praised Bayern and their coach Pep Guardiola stating that "Bayern have a great quality, both individually and collectively and Guardiola is one of the best coaches in the world". However, he also said that "Bayern may be the favorites but it is never easy to face Madrid".
Madrid and Bayern have combined to win 14 European Cup or Champions League titles. They have also been runner-up a further eight times, yet never met in the final.They met several times in Champions, but the last time Bayern eliminated Madrid in the 2012 semifinals.
Five-time winner Bayern is seeking to become the first team in 24 years to repeat as Europe's top club.
The teams will play the first leg at the Santiago Bernabeu on April 23 and the second leg on April 29 at the Allianz Arena.
Meanwhile, the midfielder of Atletico Tiago said about Chelsea that "it is a great team and they have a great coach". Chelsea's coach Jose Mourinho will be back in Madrid for the first time since he left Real Madrid.
Tiago recognized that the match would be difficult but assured "we want to reach the finals".
Atletico will host the first leg against Chelsea on April 22 at the Calderon stadium, which it routed 4-1 in the UEFA Super Cup two years ago, while the second leg will be played at Stamford Bridge on April 30.
The first legs will be played April 22 and 23, with the return matches on April 29 and 30.
The final is scheduled for May 24 at the Stadium of Light in Lisbon.