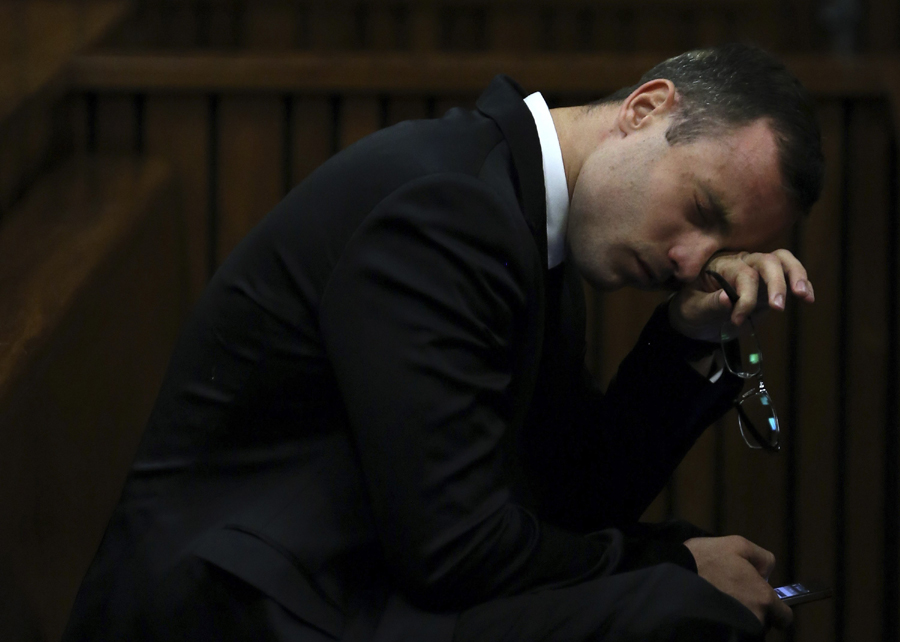 Oscar Pistorius attends his trial at the high court in Pretoria April 7, 2014. South African Olympic and Paralympic track star Pistorius took the witness stand in his own defence at his murder trial on Monday, saying the shooting of his girlfriend Reeva Steenkamp had left him sleepless, terrified and plagued by nightmares. [Photo/Agencies]
PRETORIA - His voice trembling with emotion,
Oscar Pistorius
took the witness stand in his own defence on Monday, saying the Valentine's Day shooting of his girlfriend last year had left him sleepless, terrified and plagued by nightmares.
The disabled South African track star, on trial for murder, apologized to the mother of model Reeva Steenkamp, saying he had fired four times through a toilet door at his luxury Pretoria home in the belief he was defending her from an intruder.
Steenkamp, a law graduate and model, was hit by at least three rounds, one of which - to the head - killed her almost instantly, the court has heard.
"I was simply trying to protect Reeva," Pistorius told the Pretoria High Court at the start of his testimony. Reeva's mother June Steenkamp, sitting stony-faced in the packed public gallery, bowed her head.
The 27-year-old Olympic and Paralympic star, who faces life in prison if convicted of murder, testified he had been on anti-depressants and sleeping pills because of his disturbed state of mind since the shooting.
"I'm scared to sleep. I have terrible nightmares about things that happened that night," he said.
"I can smell blood. I wake up to being terrified."
He recounted one occasion when he woke up so scared in the middle of the night that he crawled into a cupboard before calling his sister, who came round to sit with him.
"I wake up in a complete state of terror to the point that I would rather not sleep," he said, adding that his faith had helped pull him through.
"There have been times when I've just been struggling a lot," he said, fighting to maintain his composure.
"My god is my god of refuge."
Earlier, during graphic forensic testimony from a defence pathologist, Pistorius retched into a bucket in the dock.