GUANGZHOU - Italian striker Alessandro Diamanti scored twice to inspire defending champions Guangzhou Evergrande come back from a two-goal deficit and harvest a 4-2 win over Melbourne Victory in AFC Champions league Group G here on Wednesday.
Pablo Contreras and Leigh Broxham gave the Australian side a two-goal lead in first half, only to see Guangzhou' s amazing comeback with Diamanti' s double and one goal each from Huang Bowen and Elkeson.
Debutant Diamanti came into the spotlight with his deadly left-foot free-kick in the fifth minute, only to see his effort off the bar. Melbourne frustrated the defending champions before taking the lead through Contreras in the 36th minute. Five minutes later, Melbourne doubled their lead when Broxham smashed in his right-footed effort from the edge of the area, giving goalkeeper Zeng Cheng no chance.
After a disappointing first half, Lippi replaced ineffective Muriqui with 20-year-old Liao Lisheng and the rejigged home side soon started to exert their authority.
Diamanti saw his 50th minute free kick cleared off the line by Contreras but, nine minutes later, Guangzhou pulled themselves back into the game with a fine volley from Huang Bowen before Sun Xiang' s cross from the left.
The 65th minute saw Diamanti finally stamped his name on the score sheet with a right foot shot flew into the back of the net.
Six minutes later, Guangzhou took the lead for the first time when Elkeson, the top scorer in last season' s Chinese Super League, punished the A-League side with a fine finish after chesting down the ball into his own path.
With five minutes remaining, Diamanti put the result beyond any doubt when he made his symbolic curving left-foot after skipping past Contreras as the defending champions defended their home turf in the season starter.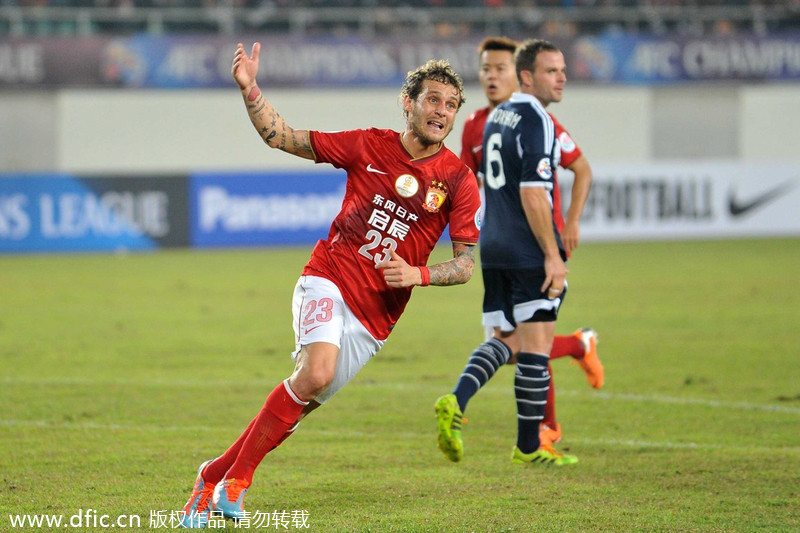 Italian striker Alessandro Diamanti celebrates after inspiring with a debut double defending champions Guangzhou Evergrande harvest a 4-2 win over Melbourne Victory in AFC Champions league Group G here on Wednesday. [Photo/icpress.cn]