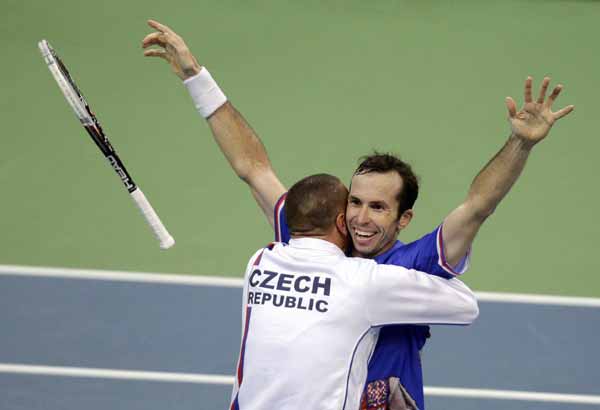 Czech Republic's Radek Stepanek (R) celebrates after defeating Serbia's Dusan Lajovic during their Davis Cup World Group final tennis match in Belgrade November 17, 2013.  [Photo/Agencies]
BELGRADE, Serbia - With the Davis Cup on the line, Radek Stepanek delivered again.

Stepanek gave the Czech Republic its second straight Davis Cup title Sunday, sweeping past Dusan Lajovic in straight sets in the fifth and decisive match to secure a 3-2 win over Serbia in the final.

That made Stepanek the first player in the history of the tournament to decide two consecutive finals in the fifth match, having done the same against Spain's Nicolas Almagro last year.

"This is an amazing moment," said Stepanek, who beat the 117th-ranked Lajovic 6-3, 6-1, 6-1 after Novak Djokovic had leveled the series for Serbia at 2-2 earlier Sunday.

The Czech veteran converted his first match point with a smash to send about a thousand visiting Czech fans at Belgrade Arena into wild celebrations as they blew trumpets and beat their drums.

Stepanek spread his hands on the court as Tomas Berdych and other Czech teammates jumped on him.

"It's difficult to find right words for emotions I am going through now," Stepanek said. "It was a completely different experience than last year. I was very focused, concentrated, I knew what to do on court. We made history for our country today."

Last year's victory for the first for the Czechs as an independent nation. Serbia won its only crown in 2010, beating France in Belgrade.

Lajovic, who has a 5-12 record on the ATP tour and had never played in the Davis Cup before this weekend, replaced Janko Tipsarevic, who missed the final with a heel injury.