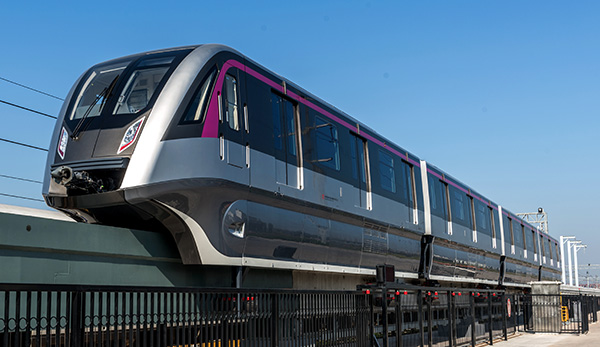 China's first monorail train powered by permanent magnet synchronous motors has completed a test run, its developers said. Provided to CHINA DAILY 
China's largest train manufacturer has developed the country's first monorail train powered by permanent magnet synchronous motors, marking a breakthrough in efforts to boost rail transit innovation.
CRRC Qingdao Sifang Co, a subsidiary of train maker China Railway Rolling Stock Corp, said on Sunday that its monorail had successfully completed a test run.
Zhong Yuanmu, the chief designer, explained that the motors used on the monorail will also enable the transit system to adapt to more difficult terrain and carry a large number of passengers.
The motors also enable the transit system to save 10 percent in energy as well as drastically cut noise levels during operation. "The train will produce even less noise than a car, even as it goes speeds of 70 km/h," Zhong said.
He added that the train meets the highest fire prevention standards and is equipped with water sprinklers that will automatically activate in the event of a fire.
The company said the monorail has taken three years of research and development and that more than 95 percent of the parts are made in China.
CRRC Qingdao Sifang's announcement comes after the central government's call for companies to intensify their drive for new rail technology over the next five years.
Yang Chuantang, the minister of transport, said during the annual session of the state legislature in March that the total length of China's light rail transit system will be increased from the current 3,300 kilometers to about 6,000 km by 2020.
Several Chinese cities have unveiled plans, or even begun construction, to install monorail systems.
Chongqing in the southwest has the country's longest monorail network in operation, with Line 3 recording close to 1 million journeys during peak hours, according to local media. The entire network covers more than 90 km.
The Beijing city government announced in 2014 a plan to build a straddle beam monorail in the capital's eastern areas. However, the plan was scrapped last year due to residents' concerns about the potential effect of light pollution on communities.
According to CRRC Qingdao Sifang, more than 50 monorail transit lines are in operation globally. It added that the cost of constructing a monorail is one-third that of building an underground system.