Chengdu Report: Chengdu propels Sichuan's foreign trade
Updated: 2014-07-07 09:42
(China Daily)
| | | | | | | | | | | |
| --- | --- | --- | --- | --- | --- | --- | --- | --- | --- | --- |
|   | | Comments() | | Print | | Mail | | Large Medium  Small | 分享按钮 | 0 |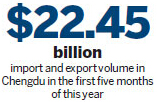 Despite an overall downturn in the country's economy, Chengdu's import and export volume in the first five months of the year reached 137.03 billion yuan ($22.45 billion), accounting for 80 percent of Sichuan province's total, according to Chengdu Customs District.
Statistics showed that Chengdu's import-export volume beat other cities in Sichuan province from January to May. The figure increased 6.3 percent year on year.
"Sichuan's foreign trade is mainly propelled by Chengdu, Deyang and Mianyang, and among these cities Chengdu keeps the leading position.
"This is a major character of Sichuan's foreign trade," said a Chengdu Customs District official.
In the first quarter, Sichuan's foreign invested enterprises had an import-export value of 62.98 billion yuan, which helped elevate the province's entire foreign trade by 3.7 percentage points.
Privately-owned enterprises generated an import-export value of 53.2 billion yuan, which elevated the province's total foreign trade volume by 7.4 percentage points.
Foreign invested enterprises saw a faster increase while privately owned enterprises were the biggest propeller in foreign trade.
The Chengdu Customs District official said this was a major character of Sichuan's foreign trade.
Steady growth
Chengdu's municipal government released 22 major measures to steadily boost the city's economy on June 23.
The measures echoed the central government and provincial government's call to "make steady growth a priority of economic development".
Officials said strengthening the propelling function of investment was important as well as encouraging locals to consume and spend.
The city plans to use squares and other public places to hold expositions and promotion events and hopes to develop rural tourism.
A city official said they also wanted to transform the government roles to create a fair market and provide transparent and efficient services.
The city also wants to upgrade industries, which will require the government to balance investment, consumption and exportations.
It also asks the government to balance environmental protection and economic development as long-term sustainable development is the ultimate goal, an official said.
Service center
In recent years, more and more foreigners have got to know Chengdu and more than half of the world's top 500 enterprises have established offices in the city.
Statistics showed from 2009, Chengdu was one of the top choices for businesses from the United States looking to invest in China. To date, more than 1,400 US enterprises and projects have settled in the city including Intel, Dell and Cisco.
"China is becoming more and more charming in US people's eyes. Its culture, history and food attract many US people. Chengdu is a great choice for them to experience China," said Shi Zhengxian, deputy sales manager in charge of United Airlines' Atlantic Ocean and Pacific regions.
United Airlines started running direct flights from Chengdu to San Francisco on June 11, which shortened the journey to 14 hours.
"The evaluation took us five years and finally we chose Chengdu from several competing cities due to its broad business opportunities and rich tourism resources," Shi said. The US has also attracted more Chinese tourists from Chengdu and surrounding regions.
In 2013, more than 1.8 million Chinese travelers went to the US, an increase of 23 percent year on year, according to the US Consulate in Chengdu.
"Chengdu and San Francisco are both major cities and flight hubs in the western part of the two countries. I believe that this new flight will bring active impacts to both sides' transportation, culture and trade," Shi said.
The first flight from San Francisco to Chengdu and the return flight were fully booked and the flight line's occupation rate is the highest among United Airlines' 13 lines in the China region for June, July and August, said Walter Dias, general manager of the air company's China region and South Korea.
The immediate popularity surprised both the United Airlines and Chengdu, said a director of Chengdu's logistics office.
"We have never encountered this kind of situation despite the fact we have opened many new routes with airlines before," he said.
Chengdu is serviced by 73 international and regional airlines. As China's fourth largest air hub, Chengdu Shuangliu International Airport's tourist throughput capacity hit more than 33.44 million in 2013.
The new Eurasian Continental Bridge, which connects Chengdu and Europe, also boosted import-export trades and cultural exchanges.
Since it opened on April 27 2013, the Chengdu-Europe express has carried 3,704 standard containers worth of $156 million.
Products include IT, machinery equipment, automotive spare parts and clothing from 110 enterprises from cities including Chengdu, Chongqing, and Zhejiang, Guangdong and Fujian provinces.
"Opening the Chengdu-Europe express helped West China to embrace opportunities from Europe," said a representative at the Bureau of Commerce from Chengdu's Qingbaijiang district.
The moves echo Chengdu's goal to become the country's regional center in the service industry by 2020, according to the municipal government's press conference on May 15. Chengdu has prepared policy supports to boost the city's service industry into the fast lane.
xuxiao@chinadaily.com.cn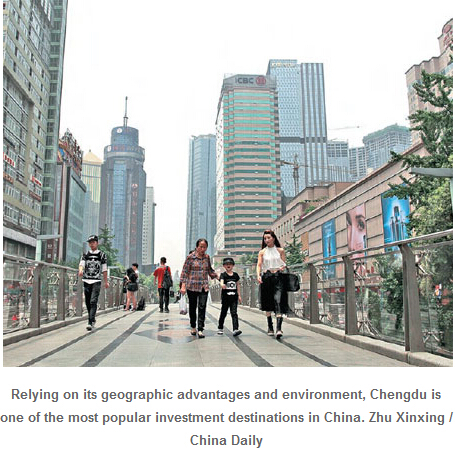 Hot Topics
Wei Guirong drives his granddaughters from kindergarten on his home-made three-wheeled vehicle in Luorong county, Liuzhou city of Guangxi Zhuang autonomous region, on May 19.