Retired Party member in Urumqi promotes spirit of 19th CPC National Congress
( chinadaily.com.cn )
Updated: 2017-11-20
Liu Zhiwen, a 76-year-old retired Party member at the Xiaogan Road Community in Urumqi Economic and Technological Development Zone (Toutunhe district), Xinjiang Uygur autonomous region, has been promoting various preferential policies that benefit the people mentioned in the report of the 19th CPC National Congress to his neighbors at 3:30 pm every afternoon.
Liu carried a newspaper and advertised the spirit of the 19th National Congress as usual on Nov 7.
"The report covers all aspects of people's livelihood, and today we mainly learn the part of constructing an elderly care policy system and social environment…" Liu said.
"Grassroots medical health service system and general practitioner teams will be improved. The move to cover hospital expenses with medicine revenue will be cancelled, and the drug supply guarantee system will be improved."
Liu mentioned, "We all care about the issues of seeing doctors and buying medicine. The current medical reform cancels the move to cover hospital expenses with medicine revenue, which truly solves a big problem for us."
Zhou Lizhen, a 68-year-old living alone in the community, said, "I have been taking medicine to treat my arthritis and have spent lots of money on medicine. If the drug price could be lower, more burdens will be relieved for us."
Now, Liu's lectures have grown in popularity among local residents.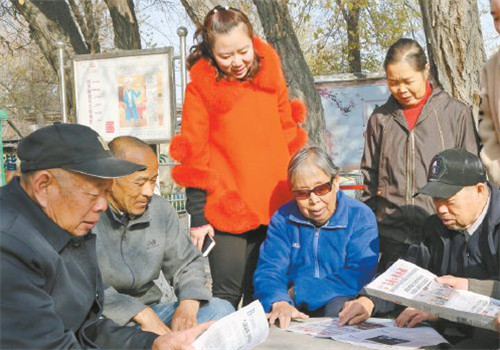 Liu Zhiwen (2nd R), a 76-year-old retired Party member at the Xiaogan Road Community in Urumqi Economic and Technological Development Zone (Toutunhe district), publicizes the spirit of the 19th CPC National Congress among his neighbors on Nov 7. [Photo/Xinjiangnet.com.cn]