No limits to learning for dedicated teacher
( China Daily )
Updated: 2017-08-07
Xinjiang coaching guru has spent 40 years mentoring young players
URUMQI, Xinjiang - China's grassroots soccer push is still in its infancy but one dedicated soul has been resolutely plowing that furrow for the last 41 years in one of the country's most rural and underdeveloped areas.
Ehat Yasin, 66, has made it his life mission to spread the gospel of "the beautiful game" in Xinjiang Uygur autonomous region since retiring from playing some 40 years ago.
Now, he's something of an icon in his home city of Tacheng, where the locals simply call him "coach".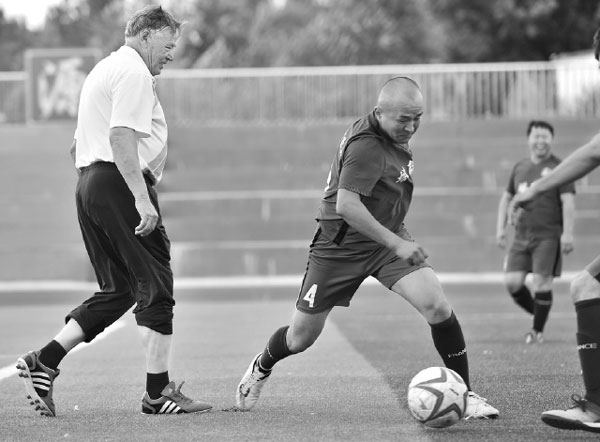 Ehat Yasin, 66(left) has devoted most of his life to soccer, hoping to inspire new generations of players in Xinjiang Uygur autonomous region. Hu Huhu / Xinhua
Home to 47 ethnic groups, Xinjiang, China's most northwestern region, boasts a great passion for soccer, but fostering talent there is far from easy.
The area lacks pitches and a professional training system due to economic underdevelopment - but at least the local kids have Ehat in their corner.
After being forced to hang up his goalkeeping gloves due to nagging knee injuries in 1976, the then 25-year-old chucked a well-paid job in Urumqi, Xinjiang's capital, to return to Tacheng to set up and manage a soccer school and an amateur team.
Knowing little about tactics and theory, Ehat soon found the going tough.
"I had no idea what data I should be looking at when selecting players for the team, for example," Ehat recalled.
Undeterred, he resolved to further his education in sports colleges.
Over the past the four decades, Ehat has coached youth teams of all ages, but what remains unchanged is his Alex Ferguson-esque motto: "Be strict."
"They are just playful kids, therefore I must be strict with them during training and games," Ehat said.
When taking his teams to competitions across the country, he has no time for sightseeing and always insists on an early curfew in the dorm.
Under his strict guidance, hundreds of youths have gone on to play in various leagues across Xinjiang while Ehat remains in Tacheng, where his services remain strongly in demand.
"We invited Ehat to be an adviser for our club. His experience is priceless to us," said the captain of the Tarbagatay Multi-Ethnic Unity youth team.
Movie star
At just six years, Ehat's own playing career was short but sweet.
It kicked off in 1970 when the Xinjiang sport authority selected players to build a regional team and Ehat rode a bicycle for 27 kilometers to take part in the tryouts.
After making the squad, he went on to play in several national competitions around the country.
"Thanks to soccer, I have traveled all over China," Ehat said.
"Back then, transportation was poor. It took us a whole week to travel from Xinjiang to south China's Guangdong province."
And even when injury dealt his career a cruel blow, Ehat continued playing - on the silver screen.
In 1980 he was back between the posts, playing a goalkeeper for fictional European side Gold Lion in Come On, Soccer, China's first feature-length movie about the sport.
Despite the poor infrastructure and facilities, Ehat still misses his "good old days" as a player.
"At that time we were all covered in dirt after training," he fondly recalled.
The dirt pitch on which they used to play has long since been transformed to a lush green surface, but what must be passed on "is the spirit of hard work," he stressed. And that never ends for Xinjiang's dedicated soccer guru. Next, he is planning to build a new youth team in Tacheng, which he wants to manage for at least a year to lay a solid foundation for the young players.
Then Ehat intends to pass the baton on to someone else as the cycle of education continues.
Xinhua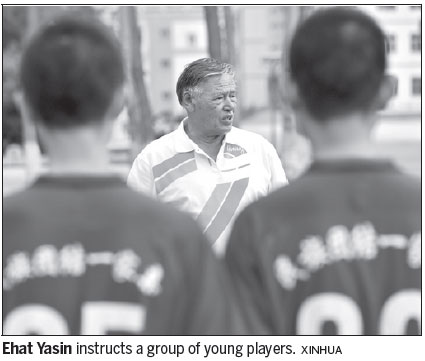 (China Daily 07/27/2017 page23)