Lanzhou-Xinjiang railway boosts travel conveniences
( chinadaily.com.cn )
Updated: 2017-07-05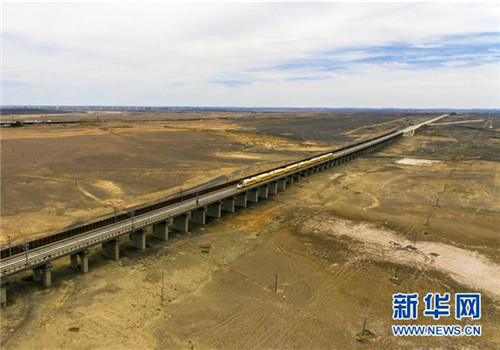 The Lanzhou-Xinjiang high-speed railway line. [Photo/Xinhua]
The Lanzhou-Xinjiang high-speed railway has brought great changes to the travel possibilities of residents along the line, according to a report on Xinhua.
Connecting China's northwestern regions of Gansu, Qinghai and Xinjiang, the railway conveyed over 2.1 million passengers in the first half of 2017. Extra train services have also been offered to satisfy the increasing travel demands during festival seasons.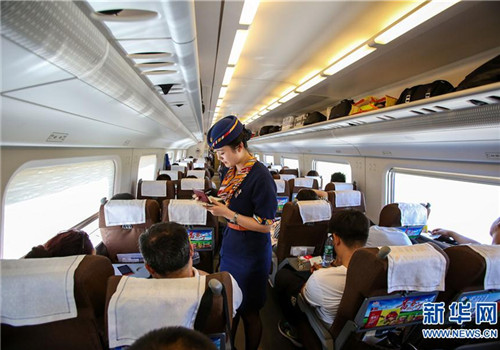 A conductor checks the tickets of passengers on the Lanzhou-Xinjiang high-speed railway. [Photo/Xinhua]
In November 2014, the first high-speed railway in Xinjiang commenced operation, largely easing the passenger burden of transport between Urumqi, capital of the the Xinjiang Uygur autonomous region, and Hami.
The high-speed line, stretching 1776 kilometers, is the longest of any one-time construction railway construction in China. The line ranges 710 km through the Xinjiang region and is designed to run at a top speed of 250 km/h.
The train has proven to promote economic and social development, bringing more vigor to western Chinese cities.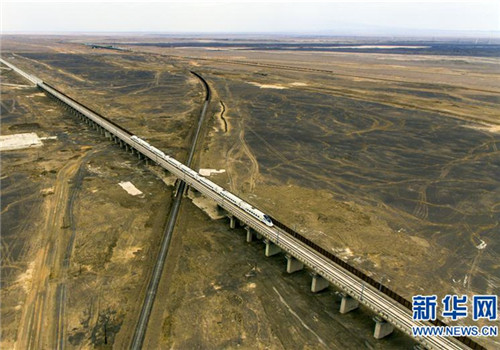 The Lanzhou-Xinjiang high-speed railway line. [Photo/Xinhua]
Edited by Zachary Dye