Lujiazui key to China-UK green finance cooperation, experts say
Updated: 2017-04-14
( chinadaily.com.cn )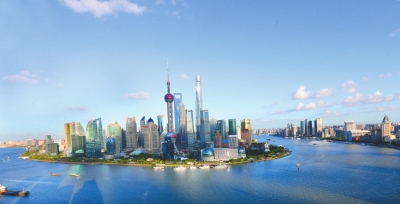 Shanghai's Lujiazui Financial City will become a key area for China-UK green finance cooperation, according to experts from the newly-established Lujiazui green finance commission. [Photo/Pudong Times]
Shanghai's Lujiazui Financial City will be a key area for China-UK green financial cooperation, experts said at the first meeting of the green finance commission of Lujiazui Financial City Management Board held on April 9.
The statement was based on Lujiazui's strength in finance and its important role in the construction of Shanghai's international financial center. Lujiazui's financial advantage will help to gain access to international institutions already engaged in green finance.
Additionally, several Shanghai representative offices of UK's financial institutions, such as London Stock Exchange, China-Britain Business Council, and City of London, have become members of the green finance commission, which makes Lujiazui an ideal site for China-UK green finance cooperation.
Green finance aims to make financing activities more environmentally friendly, reduce pollution and greenhouse gas emissions, and raise the efficiency of energy use.
China and UK began building a close partnership in green finance in early 2016 when the City of London announced a new Green Finance Initiative and considered China a significant partner of this project.
Bank of China listed a three-year $500 million China Green Covered Bond on the London Stock Exchange last November, the first such bond to be issued by a Chinese entity and secured by onshore assets . It is regarded as a key example of a positive outcome of China-UK green finance cooperation.
Other examples include that Bank of England and People's Bank of China jointly established the G20 green finance study group in January 2016 and conducted research on difficulties in developing green finance.
More cooperation in green finance between the two countries is expected to be launched with the help of the Lujiazui green finance commission.