Prince of Kunqu Opera gives Lujiazui lecture
Updated: 2017-02-17
( chinadaily.com.cn )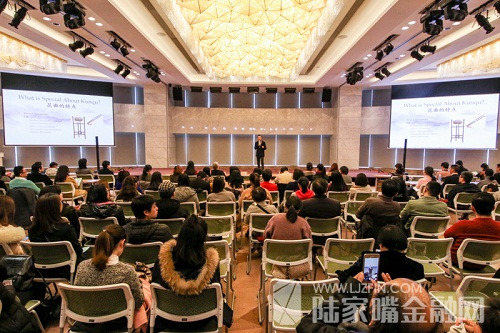 A lecture on Kunqu Opera given by Zhang Jun, known by many as the prince of Kunqu Opera, takes place at the China Financial Information Center in Shanghai's Lujiazui area on Feb 14. [Photo/ljzfin.com]
A lecture on Kunqu Opera took place at the China Financial Information Center in Shanghai's Lujiazui area on Feb 14.
The lecture hoped to increase the exposure of this famed intangible cultural heritage to attendants. It was delivered by Zhang Jun, known by many as the prince of Kunqu Opera, and he spent time sharing his knowledge of the ancient art form to the gathered Lujiazui audience.
Zhang believes that Kunqu Opera is an art form comparable in complexity to high literature and music. In order for it to be properly appreciated, Zhang feels audience members must have a base level of knowledge of the opera's inner workings.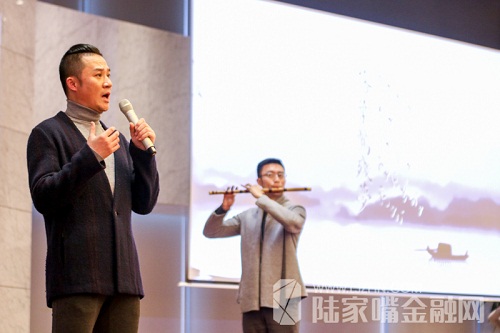 Zhang Jun, a renowned Kunqu Opera artist, performs some excerpts of a classic piece "Jade Hairpin" with an accompanying bamboo flute. [Photo/ljzfin.com]
Kunqu is characterized by its dynamic structure and melody. It involves a complex system of singing styles, choreographed movements, acrobatics, and symbolic gestures. Kunqu songs are accompanied by a bamboo flute, a small drum, wooden clappers, gongs and cymbals, which are used to echo the onstage emotions.
Kunqu has a history stretching back over 600 years and is considered one of the oldest forms of Chinese opera with Peony Pavilion and Hall of Longevity making up two of its most famed works. It originated in Kunshan, a county-level city in East China's Jiangsu province, during the Ming Dynasty (1368-1644). In 2001, the UNESCO declared Kunqu Opera an intangible heritage of humanity.