Kunqu Opera hits new heights at Lujiazui sky garden
Updated: 2017-02-15
( chinadaily.com.cn )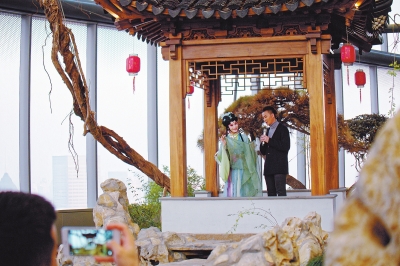 Top-class Kunqu Opera artist Zhang Jun performs with his partner at the Half Garden, the world's highest indoor Chinese garden found at Lujiazui's Shanghai Tower, on Feb 12. [Photo/Pudong Times]
Is there any combination more perfect than a beautifully sung Kunqu Opera held in an immaculately tended traditional Chinese garden? Residents in Shanghai's Lujiazui area had the opportunity to find out recently with a spectacular performance held on Feb 12.
The occasion saw that Zhang Jun, known by many as the prince of Kunqu Opera, gave a virtuoso performance at the Half Garden, which is located on the 37th floor of Shanghai Tower, one of Lujiazui's many skyscrapers.
Zhang, beloved by audiences near and far, believes that placing Kunqu Opera in this setting is ideal and adds to the spectacle. Accordingly, Zhang has brokered a deal with Baoku China, an innovative service provider for China's cultural industry, agreeing to give several more Kunqu performances at the Half Garden throughout 2017.
The garden is elevated at a height of 169 meters and covers an area of 430 square meters. As confirmed in February 2016, it is the highest indoor sky garden in the world and mimics garden styles of the Ming Dynasty (1368-1644). It encompasses pavilions, artificial hills, flowing waterways, and a wide variety of plants.
Kunqu Opera, which translates as "Kunshan melody", has a history of 600 years and is regarded as the original style of Chinese opera. Kunshan is a county-level city in East China's Jiangsu province. In 2001, the UNESCO declared Kunqu an intangible heritage of humanity.