3D space-themed exhibition opens in Lujiazui
Updated: 2016-12-19
( chinadaily.com.cn )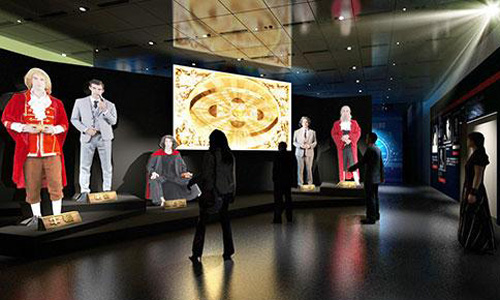 Visitors can talk with virtual celebrated astronomers at a 3D technology exhibition held in Lujiazui, Shanghai, on Dec 16. [Photo provided to chinadaily.com.cn]
Curtain was lifted on a 3D space travel exhibition on Dec 16 at a recently opened art space in World Financial Center in Lujiazui, Shanghai, attracting nearly 100 visitors.
Using the latest in multimedia and 3D technology, children and families get the chance to explore the universe as if through the eyes of an astronaut.
The 2,000-sq-m exhibition, which will run until Feb 28, 2017, includes 14 display areas, where visitors, children in particular, are able to learn more about the final frontier. Activities include talks by celebrated astronomers, painting space sceneries, dismantling a giant rocket, watching space-themed videos at a theater using holographic technology, and experiencing what it's like to travel in space.
The theater using holographic technology is one of the highlights of the exhibition. The 3D videos played at the theater show the audience the unique and vivid natural landscape of planets in the solar system. The audience can even walk into the scenes and take photos, as if they are travelling in space.
Some star-gazing activities and a competition to grow space plants will also be launched during the exhibition to stimulate children's interest in space and science.
The 2,000-sq-m exhibition is the first for the art space, which opened on Sept 28 aiming to give local workers a better cultural and art experience.
Wang Huifang, head of the newly-opened art space, explained that the theme of space travel was deliberately selected from 10 other art themes due to the dazzling technological settings and its appeal to kids and families.
Wang added that more exhibitions would be coming to the art space in the future.