Nobel laureate Alexievich attends Shanghai Book Fair
Updated: 2016-08-26
( China Daily USA )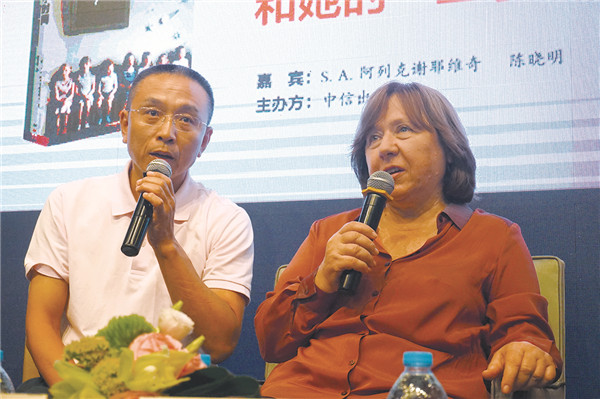 Svetlana Alexievich and Professor Chen Xiaoming speak to the audience during the annual Shanghai Book Fair. Provided to China Daily
Svetlana Alexievich, the winner of last year's Nobel Prize in Literature, graced the Shanghai Book Fair and Shanghai International Literary Festival earlier this month and gave a talk at Sinan Mansions about her new book and how she went about writing it.
Alexievich last visited China in 1989 when she was member of a Soviet delegation. Both China and Russia have since undergone drastic changes in the past decades, said the 68-year-old, who was invited to the fair by China CITIC Press, which had recently published her book Second Hand Time in Chinese.
The Belarusian author's latest book concludes a series of five books which explores Soviet identity and questions such as "Why did the gulag camp exist?", "Why have we failed to trade freedom with our suffering?" and "Why couldn't we build the idealistic socialism?"
"Russian people are disappointed in the future and are eager to leave behind their past, and this will unavoidably result in anxiety and loss of hope. It's important to let them understand why the past is lost and why they have been unable to step into the contemporary world," said Alexievich of the intentions of her book.
Instead of addressing major social issues, Alexievich said that she chose to focus on "socialism in the family" and let ordinary people present their perceptions of issues that have surfaced during the times of Russian leaders such as Vladimir Lenin, Joseph Stalin, Mikhail Gorbachev and Vladimir Putin.
Professor Chen Xiaoming of Peking University was one of the first to read the Chinese edition of Second Hand Time and he said he "was overwhelmed after the first 10 pages" of a book that vividly revealed the traumatic experiences of people. He also praised Alexievich's "powerful narrative and wondered "how the author managed to combine truth with drama."
Alexievich revealed during the talk that she had interviewed people for three to four hours, sometimes even a whole day, and switched to using a tape recorder after realizing that she could not achieve an accurate account of a person's tale by taking notes. She added that she would find her narrative path and build the plot through emotions after sifting through the accounts of thousands of people.
"It is the small figures who speak truthful answers. I let people speak for themselves," said Alexievich.
Born in 1948 to a Belarusian father and Ukrainian mother, Alexievich spent her childhood in the countryside where she enjoyed listening to stories told by elderly people. She later became a journalist, though she didn't identify her work as journalism. She credited Belarusian writer Les Adamovich for having helped her find her own literary path. Adamovich was the person who coined her style of writing, calling it "collective novel" or "epic chorus".
Many of Alexievich's works have been published in Chinese, including The Unwomanly Face of the War, The Boys in Zinc and Voices from Chenobyl, which depicts life in the aftermath of the nuclear disaster.