Lujiazui celebrates 95th anniversary of the CPC
Updated: 2016-06-22
( chinadaily.com.cn )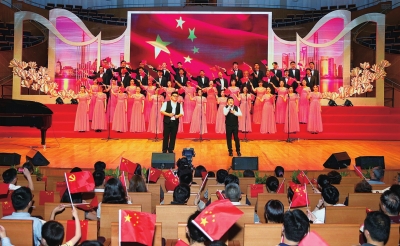 A choral performance is given by workers in Lujiazui Financial City of Shanghai on June 19, to celebrate the 95th anniversary of the founding of the Communist Party of China. [Photo/Pudong Times]
The Lujiazui Financial City in Pudong New District of Shanghai held a choral performance at its Oriental Art Center on June 19, in celebration of the 95th anniversary of the founding of the Communist Party of China.
Preparations for the event began in May, aiming to show the spirit of local workers and create a better cultural atmosphere for them. It attracted many local institutions and workers, including the winners of Lujiazui's first ever chorus competition.
The performances, staged by nearly 1,600 white-collar workers, were divided into three sections, themed "Extraordinary Times", "Beautiful Country", and "Bright Future" respectively, which expressed their best wishes to the Party.
Organizers said that this event was also expected to meet the cultural needs of local workers.