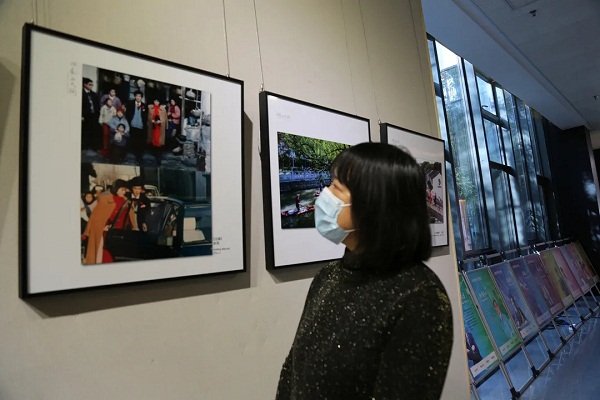 A local surnamed Zhu looks at a photo of herself at the "Impression of West Street" exhibition that is being held in Jiading district. [Photo/WeChat account: sh-jiading]
The image exhibition "Impression of West Street" kicked off at Jiading Culture Cloud in Jiading district on Dec 22.
The exhibition showcases 117 works including videos, old photos, and recent photos that show all aspects of the cultural environment and historical features of West Street from the end of the Qing Dynasty (1644-1911) until now.
According to the exhibition's organizers, Jiading district will implement protection measures on West Street during the 14th Five-Year Plan (2021-25) period by integrating more modern urban functions while keeping the regional characteristics and historical features.
Therefore, the district held a series of themed photography competitions to select the best works that depict West Street from the past to present to be displayed at the exhibition.
In addition, many historical documents are also displayed at the exhibition.
The "Impression of West Street" exhibition will be held until early January at Jiading Culture Cloud, Fahua Pagoda yard, and Nanxiang Mega Incity.
Exhibition time:
Jiading Culture Cloud: Dec 22, 2021 – Jan 10, 2022
Fahua Pagoda yard: Dec 22, 2021 – Jan 8, 2022
Nanxiang Mega Incity: Dec 22, 2021 – Jan 5, 2022