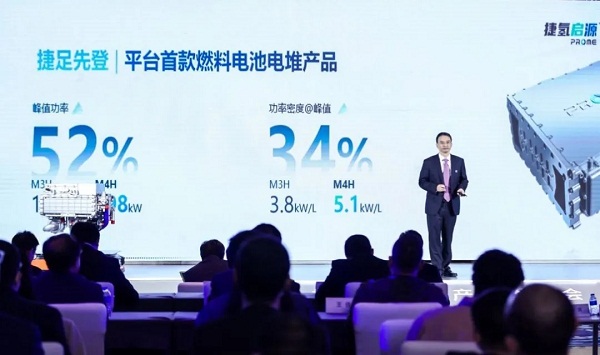 Shanghai Hydrogen Propulsion Technology Co holds a new product launch ceremony on Oct 28. [Photo/WeChat account: sh-jiading]
Shanghai Hydrogen Propulsion Technology Co, a Jiading district-based company that specializes in the fuel cell field, launched the first fuel cell stack platform on Oct 28.
The company also showcased the first fuel cell reactor that is based on the platform, as well as fuel cell systems P4H and P4L at the launch ceremony.
According to Lu Bingbing, general manager of SHPT, the new products will provide more power for vehicles while reducing hydrogen consumption. The new products also feature a highly integrated design that can be fully compatible with both passenger and commercial vehicles.
SHPT has been bolstering its efforts to foster independent innovation. It has realized self-research and self-control of membrane electrode assembly, which is the core component of fuel cells, on the newly-launched fuel cell stack platform.
Founded in June 2018, SHPT has been beefing up its efforts to promote the development of the hydrogen fuel cell industry. The company's new park, which is located in Anting, Jiading district, was put into operation in May.
The company's products have been widely used in passenger cars, light passenger cars, urban buses, road buses, locomotives, forklifts, trailers, as well as light, medium, and heavy trucks. They are also used in non-vehicle fields like distributed power generation, ships, and aviation.
Jiading district has been working on the construction of Jiading Hydrogen Port in recent years. Currently, it is home to over 30 hydrogen energy and automotive intelligent industrial projects, including Great Wall Motors, Faurecia, and Horiba, with a total investment of more than 10 billion yuan ($1.56 billion).