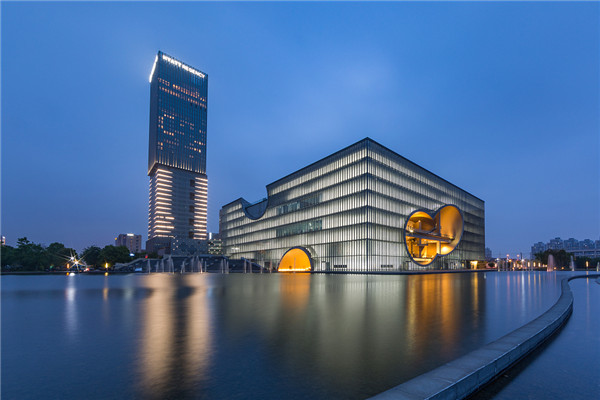 Jiading district in East China's Shanghai launches eight new projects at a signing ceremony held in the district on May 25. [Photo/VCG]
Jiading district in East China's Shanghai launched eight new projects, with a combined investment of 6.2 billion yuan ($967.69 million), at a signing ceremony held in the district on May 25.
These projects covered industries like hydrogen fuel energy, artificial intelligence, new materials, and the financial sector. Among them, 4.86 billion yuan was invested by foreign enterprises, accounting for 78 percent of the total value.
Running under the theme of "Focus on the 14th Five-Year Plan and Embrace Jiading New City," the ceremony invited more than 130 domestic and international institutions and enterprises, as well as a number of government officials.
Zhu Yi, deputy director of the Shanghai Municipal Commission of Commerce, said that Shanghai is now beefing up efforts to develop five new suburbs during the 14th Five-Year Plan period (2021-25), aiming to develop them into "independent nodes" to create a fresh round of economic development. Efforts will also be made to promote new business models like the nighttime economy and the brand economy.
Gao Xiang, head of Jiading district, addressed the ceremony and said that Jiading will leverage the advantages of the construction of Hongqiao Global Central Business District,and Jiading New City to accelerate its high-quality growth.
Gao added that the district will implement more measures to create a high-quality business environment for global investors.
"I confirm that we have made a right choice to invest in Jiading," said Kirk Livingston, senior vice-president of the Asia-Pacific region of Loop Energy, a Canadian hydrogen fuel cell developer and supplier.
He added that the company will build a manufacturing headquarters in Jiading to produce fuel cell systems, fuel cell engines, and related key components.
China has a promising market for new energy electric vehicles, and Jiading, which is positioned as an international auto city, has a solid industrial foundation and complete supporting facilities for the hydrogen industry, according to Livingston.
A total of 1,600 new enterprises from the United States invested in China last year, and the Chinese market has great potential. The five new suburbs in Shanghai are very attractive to US investors, according to a representative of the US-China Business Council.
Local statistics show that during the first four months of this year, Shanghai saw 20 newly-added multinational corporate (MNC) regional headquarters, as well as seven research and development centers enter the city. A total of 14,467 new companies were registered in Jiading during the same period, bringing in a total investment of 22.64 billion yuan.