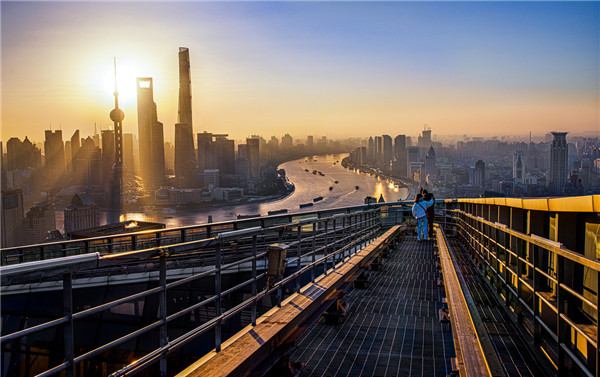 A view of the Bund and the Lujiazui financial area in Shanghai from the roof of the CITIC Plaza on Jan 1, 2021. [Photo by Fang Zhonglin/for China Daily]
Cosmopolitan metropolis plays significant role in CPC's national development plans
Walking past posh restaurants and fancy boutique stores in Xintiandi, one of Shanghai's most fashionable lifestyle hubs, one would eventually come across a red and gray-bricked two-story house.
While this building looks no different from rustic shikumen residences that were once commonplace a century ago, it is in fact a significant part of China's history-this venue was where the Communist Party of China was born following a meeting that began here in 1921.
There are many reasons why Shanghai became the birthplace of the CPC, but one of the main reasons is the city's openness. After all, Shanghai was one of China's first trade ports, and this fueled its transformation into a global hub.
Over a century since it became a treaty port, Shanghai's openness is still its most definitive trait, and it is why this cosmopolitan megacity plays a crucial role in espousing the Party line and bolstering the national blueprint for development.
"Since the founding of the People's Republic of China, Shanghai's fast development has been attributed to its implementation of China's national strategies, including the establishment of the Pudong New Area in the 1990s and the integration of the Yangtze River Delta in recent years," noted Zhao Gangyin, director of the Research Department of Party history at the Shanghai Administration Institute.
The reason Shanghai was chosen to execute important national strategies, added Zhao, lies in the nature of the city, which President Xi Jinping once summarized using three words-openness, innovation and inclusiveness.
"Every city has its character. Located where the Yangtze River flows into the Pacific Ocean, Shanghai has been a pioneer of opening-up in China," Xi said in his speech at the opening of the inaugural China International Import Expo in 2018.
"The city's development is made possible by its character, competitive edge and steps toward greater opening … indeed, openness, innovation and inclusiveness have become the hallmark of Shanghai. These traits are also a vivid reflection of China in the new era and its commitment to development and progress."
This openness has also served as a magnet for foreign multinationals looking to set up their regional headquarters.
Located just across the Party's Memorial House is the global flagship store of YSL Beauty, a brand under the L'Oreal Group, which recently selected Shanghai as its North Asia headquarters.
According to the company's North Asia president and China CEO Fabrice Megarbane, this move was made because Shanghai's open nature allows for "a much faster ecosystem to grasp the trends… faster in terms of the decision-making and collaboration needed to capitalize on the 'beauty triangle' formed by Shanghai, Seoul and Tokyo".
This reasoning is synonymous with the city's broader ambition to become a strategic node bridging domestic and international resources. It's an ambition that is very much aligned with the dual-circulation pattern proposed by the central government.
That pattern is among the highlights of the 14th Five-Year Plan (2021-25), the key document charting China's social and economic course for the next five years.
"Shanghai will continue to improve its ability to participate in global trade, finance and technology matters while strengthening domestic consumption, production and technological capabilities to hedge against global market disruptions," noted Huang Renwei, executive deputy director of the Institute of Belt and Road& Global Governance at Fudan University in Shanghai.
While the new pattern reflects the nation's goal of shifting from an export-and investment-centric economy to one that is driven by demand and innovation, the directive now carries more strategic weight given the uncertainty in the global arena caused by the COVID-19 pandemic.
"Because the world has entered a period of turbulence and transformation, Shanghai faces challenges from external changes and emerging opportunities stemming from new rules derived from new global governance patterns," Huang said.
The dual-circulation pattern refers to the two-pronged strategy of spurring domestic demand while catering to overseas markets. In terms of the former, Shanghai has been tasked with spearheading enhancements to the Yangtze River Delta regional integration plan to unlock the true potential of industries including manufacturing, trade, artificial intelligence and finance.
The city is also aiming to maximize the potential of its suburban areas, having rolled out action plans to transform five existing outer districts into hubs for industries such as automobiles and science and technology.
"When we talk about opening-up, the importance of internal opening-up should not go unnoticed," said Shi Liangping, an economic researcher at the Shanghai Academy of Social Sciences. "Only by tearing down administrative barriers, such as those between cities and provinces, can we unleash more room for growth."
In terms of catering to overseas markets, Shanghai should strengthen its role as a bridgehead for the Belt and Road Initiative by leveraging its free-trade zone and the annual China International Import Expo, Shi said.
One way to do so is to hinge on the headquarters economy. This approach, which is one of the five pillars of development that the municipal government is focusing on, would help persuade global corporations to set up their regional headquarters in the city.
The other four pillars are innovation, service, openness and online traffic.
By the end of last year, Shanghai was home to 771 regional headquarters of multinational corporations, among which 112 were Fortune Global 500 companies.
Despite these impressive numbers, there is still room for progress. Tang Zilai, a professor of architecture and urban planning at Tongji University in Shanghai, points out that there is still a gap between Shanghai's status quo as a gateway city and its desired title as a true global hub.
"Only seven Fortune 500 corporations are headquartered in Shanghai," Tang said. "While the city has in part managed to handle global resources, it isn't well prepared for conducting global resources allocation, and that's the direction Shanghai should be moving toward."
To accelerate its transformation into a global financial and technology center, the Shanghai government had in the municipal version of the 14th Five-Year Plan proposed speeding up the construction of the bond market, amplifying the influence of gold and crude oil futures traded in Shanghai and implementing new pilots for matters like digital currency.
But it will ultimately be the service level and business environment that foreign companies are most concerned about, said Mei Yan, senior partner and chairwoman of China's Brunswick Group operations. To make these two aspects more attractive, the government should promote opening-up in new sectors, ensure fair and equitable competition and provide legal protection for foreign companies, she noted.
The concept of "openness", however, should not be limited to the government's approach of luring more international firms. According to Tang, it is equally important to cultivate domestic enterprises and have them set up their headquarters in Shanghai.
"Domestic companies that manage to combine global resources and local expertise exemplify the dual circulation pattern that the central government is calling for," Tang said.
Xing Yi contributed to this story.