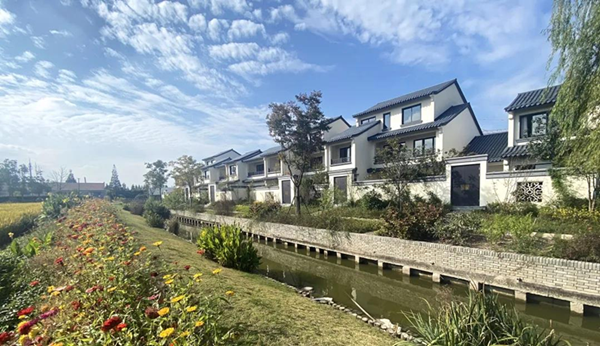 The local government in Lianyi village, Huating town, Jiading launched a renovation project known as Xiangyue Huating to provide the village with a beautiful countryside, modern agriculture, and rural tourism facilities. [Photo/jiading.gov.cn]
During the 14th Five-Year Plan (2021-25) period, Jiading district in East China's Shanghai will ramp up efforts to promote rural revitalization and prioritize the development of agriculture and rural areas characterized by thriving businesses, a healthy environment, social etiquette and civility, effective governance, and prosperity.
Green agriculture has been improved through scientific and technological advances in local featured agriculture. Some scientific and technological projects have been launched to improve the development of modern agriculture.
The local government has also cooperated with agricultural scientific research institutes to accelerate the integrated development of enterprises, universities, and research institutes. It hopes to improve its scientific and technological capabilities and promote the commercialization of scientific research findings.
Local authorities have said that in the next five years, Jiading will continue to actively push supply-side reforms in agriculture and adhere to an ecofriendly and low-carbon development model that is high in quality and efficiency. A number of special agricultural product brands will be fostered to increase the added value of agricultural products and increase incomes for farmers.
According to Jiading's 14th Five-Year Plan, the government will ramp up efforts to improve the living environment and infrastructure in rural areas in order to push forward all-round rural vitalization.
In addition, the integration of the primary, secondary, and tertiary sectors in rural areas will be further promoted over the next five years in an effort to inject new momentum into the district's agricultural sector.