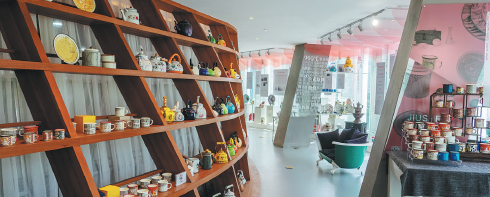 Xie Dangwei, once an enamel producer at the Shanghai Jiuxin Tangci Factory, now owns a collection of more than 2,600 enamel items showcased at his museum in Shanghai's Jiading. GAO ERQIANG/CHINA DAILY
A four-piece set of enameled steel ware, including basins and a chamber pot, used to cost three and a half months' salary of an ordinary worker in Shanghai, Xie Dangwei says, while pointing at a set of dowry offerings featured in his exhibition of enamel works.
Since joining the Shanghai Jiuxin Tangci Factory in 1978, the 59-year-old spent most of his career making enamel products, before promoting the material and calling for its revival in the contemporary age.
"It is clean and safe, won't break into many pieces, and germs won't stay on the surface," he says, during a tour of his exhibition on the history and development of enamel ware in China.
A few weeks before his exhibition, a vintage-style Chinese enamel chamber pot made the news-but for the wrong reasons. A seller on the e-commerce site Amazon had described the pot as a table decoration and an ice bucket.
While many laughed at the mistake, Xie believes the enamel pot's function as a container for iced wine and champagne is not inappropriate.
Enamel was introduced to China in the early 1900s. These pots, which were inspired by ancient ceremonial liquor containers, were created between the 1910s and 1920s.
"At first, it was designed as a small spittoon and later evolved to become the chamber pot that we are familiar with."