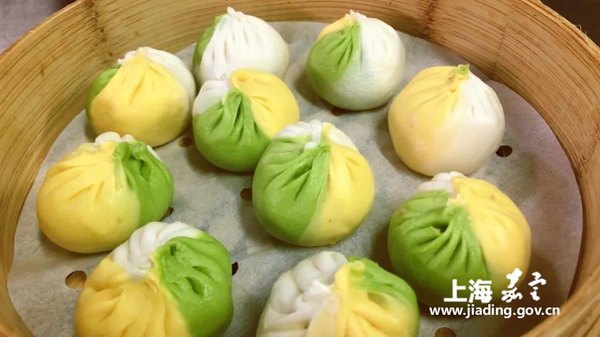 Banana steamed buns are white, yellow and green. [Photo/jiading.gov.cn]
Shanghai's beautiful Guyi Garden has many attractions—waterside pavilions, winding corridors, a range of rare trees and flowers … but many coming to the ancient garden this month are skipping the sights altogether and instead rushing to a tiny stall hidden in a humble corner.
They have come to Guyi Garden for one thing only: to try the Nanxiang steamed buns made by Chen Yihong.
Chen is the seventh generation of his family to make and sell the traditional snacks, and he has drawn on a century of experience to create two new recipes – cocoa mushroom buns and banana buns – both of which have quickly become sensations in Shanghai.
Unlike traditional steamed buns which have a plain white skin, the new buns are vibrant and colorful, with the cocoa mushroom buns being light brown in color and the banana buns a mix of white, yellow and green.
The cocoa mushroom buns, slightly sweet in flavor, are kneaded with cocoa powder, mushroom and fresh shredded meat, seasoned well, and steamed at 140 degrees Celsius for five minutes.
"The aroma really becomes something special when the cocoa is mixed with mushroom and meat," said a foodie surnamed Li.
The banana steamed buns, the first of their kind to be made from fruit, are quite addictive, according to feedback from those who have tried them. The steamed banana buns are sweet, soft and tender, without any bitterness. The flavor becomes even smoother and not greasy at all when mixed with fresh meat. They will cause your taste buds to sing with joy.
"It's not easy to mix fruit with steamed buns. We tried for nearly half a year using various fruits such as melons and apples," Chen said.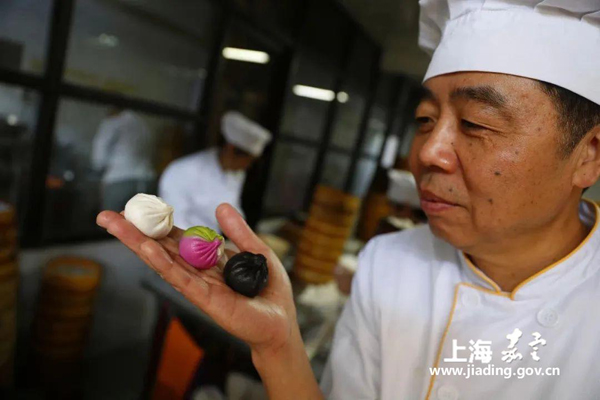 Li Jiangang, among the sixth generation of Nanxiang steamed bun chefs, shows off his creative buns. [Photo/jiading.gov.cn]
Li Jiangang, among the sixth generation Nanxiang steamed bun chefs, started the innovative tide to develop new flavors in 2016.
"To date, we have developed a total of 12 new flavors, which account for an increasing proportion of the daily sales, from 10 percent at the beginning to nearly 40 percent now. More and more young people are attracted to our buns. The market is changing so fast, we have to hold on to our traditions and try to innovate at the same time," Li said.
If you want to try these classic Shanghai snacks, you can get to Guyi Garden by taking bus lines No 582 and No 822, or take metro line 11 and get off at Nanxiang station.