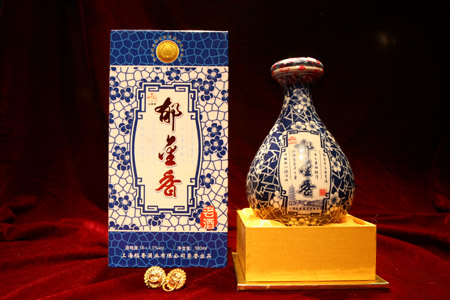 Yujin xiangjiu, or curcuma wine, is made from rice after traditional fermentation, with more than 20 kinds of herbal materials. [Photo/jiading.gov.cn]
Yujin xiangjiu, or curcuma wine, which ihas been widely enjoyed by Jiading locals since the middle period of the Ming Dynasty (1368-1644), is made from rice after traditional fermentation using more than 20 herbs such as curcuma, Chinese angelica and tu-chung (the bark of eucommia).
The wine is purplish red and transparent, highly concentrated, slightly sweet and sour, and has a tender and mellow medicinal taste. Flavored by a small amount of sugar, it has a moderate alcohol strength between 20 to 25 percent, making it popular with both men and women.
According to Nanxiang Town Chronicles, due to its color and flavor, the wine's fame spread to Beijing, the imperial capital of the Qing Dynasty, and was already considered a vintage wine during the reigns of emperors Kangxi and Qianlong.
Doctors of traditional Chinese medicine believe that if someone drinks this wine often, it is good for their health, as it stimulates the appetite, strengthens the kidneys, regulates blood circulation, frees movement of the bowels, and eliminates body dampness.
Yujin xiangjiu won the gold prize at the Leipzig Fair in Germany in 1935 and was rated as a quality product of Shanghai in 1986.