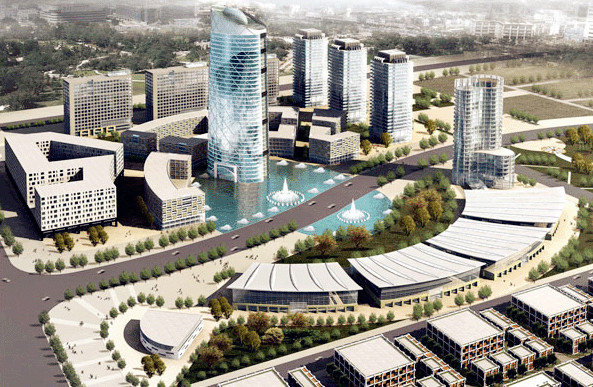 Shanghai Jiading Industrial Zone is made up of three parts: Shanghai Jiading Industrial Zone, Jiading District Malu Industrial Park, and Jiading District Waigang Industrial Park. [Photo/jiading.gov.cn]
Shanghai Jiading Industrial Zone is currently a high-end manufacturing cluster, with its industrial capability and competitiveness enhanced greatly since its establishment in 1992, propelling Jiading district's innovative development.
In spite of the global COVID-19 pandemic last year, the gross industrial output value above designated size of the zone totaled 111.74 billion yuan ($17.25 billion) in the first 11 months of 2020, a slight decrease of 1.3 percent compared with the same period in 2019, according to statistics. The zone's total sales and total retail sales saw a year-on-year increase of 9 percent and 5 percent respectively in that period.
A total of five companies in Shanghai Jiading Industrial Zone were included on the 2019 Top 100 Foreign Invested Enterprises in Shanghai list released last year, including Shanghai Volkswagen Powertrain Co Ltd and Volvo Car China.
Relying on its strong manufacturing industry, the zone has taken up measures to enhance its innovative capability over recent years, aiming to develop itself into a growth driver for promoting Jiading's scientific and innovative development.
With the support of the local government, startups with core technologies in the zone have witnessed steady growth, with some growing into industrial leaders, such as Shanghai United Imaging, which develops and produces a full portfolio of advanced medical products, as well as Hesai Technology, a global leader in 3D sensors.
Strategic emerging industries in the zone have also expanded rapidly in recent years, with the output value of the integrated circuits and the internet of things industries reaching 12.64 billion yuan in the first 10 months of 2020.
Currently, efforts have been made to promote investment in the smart sensor industry, with seven relevant enterprises settling in the Shanghai Smart Sensor Industrial Park in Jiading, which is expected to be home to 500 smart sensor enterprises and will generate more than 100 billion yuan in output value by 2025.
Shanghai Jiading Industrial Zone authorities said that the zone will make great efforts to accelerate the transformation of economic growth modes, speed up industrial transformation and upgrading, as well as expedite the replacement of old growth drivers with new ones, aiming to build the zone into a modern industrial park with high innovative capability, growing industries, and a livable environment.