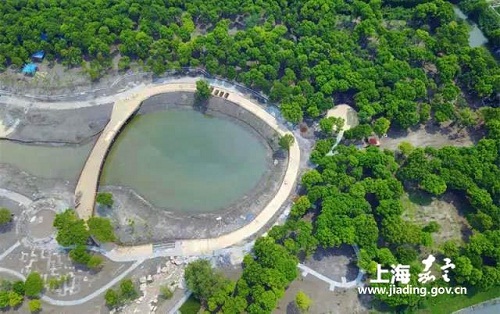 An aerial view of the first stage of the new North Jiading Country Park – it is slated to start trial operation on Sept 23. [Photo/jiading.gov.cn]
The first stage of the new North Jiading Country Park is to start trial operation in Jiading district, Shanghai, on Sept 23.
Visitors can get register for tickets via WeChat or on site during the trial.
The first stage of the park covers 7.39 square kilometers, where visitors are able to enjoy a 800 mu (53.3 hectares) of forest, a 4,000-square-meter colorful paddy field, a river network stretching 20 kilometers, three avenues lined with trees such as red maples and cedars, an 800-meter wisteria corridor, a 65-mu field of flowers, and 18 carefully designed and landscaped bridges.
The forest is designed to be a playground for children, housing nearly 20 entertainment facilities such as tunnels and artificial hills, sand pits, a maze, water sports facilities, and play areas.
Three other themed forests, including one themed on love, one as a bird habitat, and another for leisure and entertainment, are also accessible.