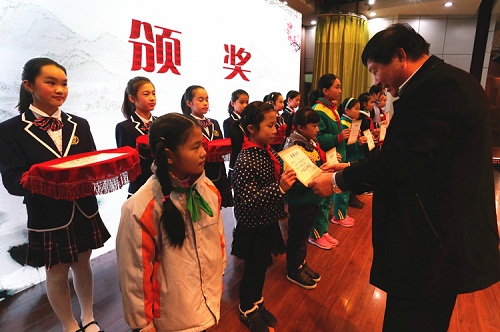 Winners of a youth painting contest in Jiading district, Shanghai receive awards from local education authority, Jan 4. [Photo/jiading.gov.cn]
An award ceremony for a youth painting contest has been held at Nanxiang Primary School, Jiading district of Shanghai on Jan 4. The winners included top 10 young painters and best teams.
The contest had started in June 2015 and had targeted all the primary and secondary schools in the district. With a theme of "happy family", the contest aimed to encourage young students to look for and create beauty in their daily life.
Since its inception, it has received nearly 1,300 painting works by students from 82 local schools.
To better present the theme in their paintings, some participants said they participated in parent-child activities at Guyi Gaden, Tanyuan Garden and other places and drew their inspiration from the activities.
To increase the influence of the event, organizers have created a micro film this year about how parents can encourage kids to follow their imagination and creativity. The film was based on family stories of three winners.
The organizers said that the event was held for seven consecutive years and they considered it a significant and innovative move for local art education.