Since its inception in April, the Shanghai Financial Valley in Jiading district has been dedicated to carrying out innovative measures to attract Internet finance and financial service outsourcing companies, local media reported on Nov 11.
Because of its innovative services, a total of 22 financial enterprises have moved into the valley with over 100 financial service outsourcing firms intending to do so, according to Huang Xueping, president of the valley.
Huang explained that a highlight of its services is a cross-border interbank payment platform that was put in use in 2013, which made cross-border payments much easier and more efficient for Chinese enterprises.
It's also planned to move a Shenzhen-based financial innovation college to Jiading and have 20 experts do research on innovation services for financial institutions, in a bid to promote its further development and provide a better business environment for financial institutions.
Experts forecast that the country's financial service outsourcing market will expand five to 10 times in the next decade. The valley aims to become a hub of Internet finance by gathering together companies in finance, emerging finance, information technology and financial service outsourcing.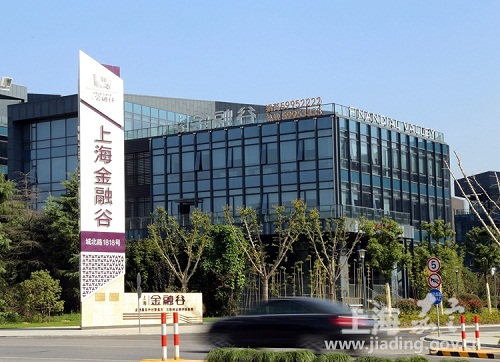 Exterior of the Shanghai Financial Valley in Jiading district. [Photo/jiading.gov.cn]