From housewife to phoenix crown master
(chinadaily.com.cn) Updated: 2019-08-16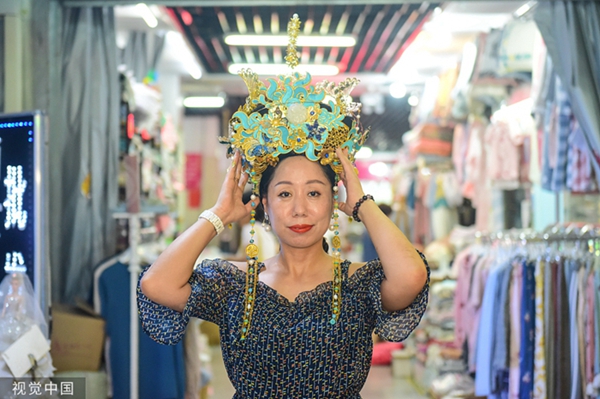 Chen Jie wears a phoenix crown she made herself in Qingdao, East China's Shandong province, Aug 1, 2019. [Photo/VCG]
Chen Jie, a former housewife who is now the top phoenix crown maker in Qingdao, East China's Shandong province, owns a business that makes 600,000 yuan in annual sales revenue.
She started her business in 2008 with an initial fund of 50,000 yuan, and ran an accessory shop at first. She started to make money that first year in business as she had good taste in jewelry.
After her business was built up, Chen, tried to design and make her own handmade headwear, even though she didn't even have a basic artistic education.
"Sometimes I would carry out secondary processing on the backlog of accessories and the market turned out to have a good response to them," Chen said.
With a pair of skillful hands, Chen found her talents in designing and making ancient-style accessories, such as the phoenix crown, pearl hairpin, hair ribbon and moon-shaped fan.
She even tried to restore ancient jewelry by searching for information in ancient books.
As more and more young people like wearing ancient-style costumes and accessories at their weddings, Chen's business is flourishing.
She intends to recruit students nationwide to pass her skills to them.
"We have already lost so many good crafting techniques and methods, so I think it's a responsibility to pass on what I know to young people," Chen said.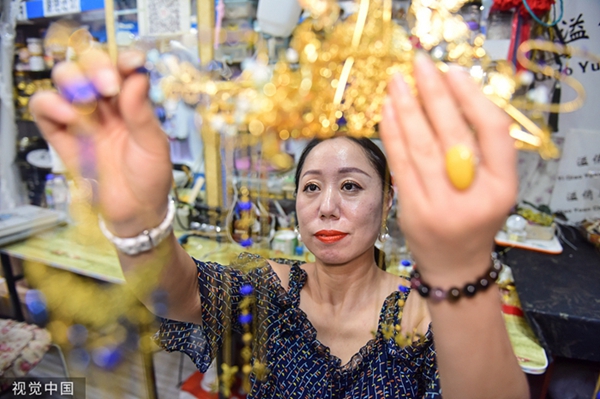 Chen Jie holds a phoenix crown she made herself in Qingdao, East China's Shandong province, Aug 1, 2019. [Photo/VCG]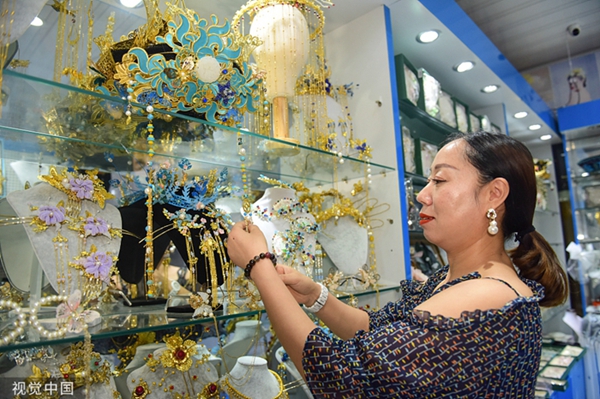 Chen Jie shows phoenix crowns she made herself in Qingdao, East China's Shandong province, Aug 1, 2019. [Photo/VCG]