Figurine master more known for kindness than skills
By Zhao Ruixue in Jinan (China Daily) Updated: 2019-05-09
After an impoverished childhood, the artist wants to try her best to help others
With her rough yet deft hands, Gao Guiying kneaded and pressed a lump of dough to shape 10 petals of a red rose in less than 10 minutes at her workshop in Jinan, capital city of East China's Shandong province, on April 5. On a desk in front of her, there were different colored doughs and dozens of dough figurines made by Gao and her six apprentices.
The 70-year-old has become a local celebrity with her image and stories frequently seen on the news. However, what makes Gao well-known among locals and outstanding among folk artists of dough figurines is not for her skills, but for her kindness. She has helped many people in need and changed their lives.
In the simple 10-square-meter workshop which is also used as a kitchen and dining area for Gao and her apprentices, posters with words of gratitude to Gao are hung on the walls. These posters are given by people Gao had helped.
Gao has been teaching people how to make dough figurines for free since the late 1990s. In addition, she has been providing poor people with lodgings and food for free, and supporting poor college students with her retirement allowance and the money she earns from selling dough figurines.
Gao cannot remember the exact number of people who have learned figurine making skills from her, but she said the number should be no less than 5,000. During the past two decades, she has donated more than 1 million yuan ($149,130) to help those in need.
"I suffered a lot when I was young and I know how bad it is to live in poverty, so I'd like to do as much as I can to help more people live better," Gao said.
Due to extreme poverty, Gao's parents sold her when she was around 5 years old to a family which maintained the tradition of making dough figurines. Although Gao did not learn how to make dough figurines formally due to the family's rules of having the skills only passed down to males, she still was influenced by the environment and mastered some skills.
In the 1990s, to help a colleague who was laid off from their factory, Gao picked up the techniques and started teaching her colleague to make dough figurines for a living.
"Giving the dough figurine a 'spirit' is the most important part. Your attitudes in life are crucial to the kind of 'spirit' you give the dough figurine," Gao said.
Liu Gang, who has a brittle bone disease known as the "China Doll Syndrome", has been learning how to make figurines from Gao since last March.
"The dough figurines that grandma Gao makes featured smiling faces, but the ones that I had made are still kind of blank, although they are much better than those I had made in the beginning," he said. "Besides providing me with food and lodgings, she has been collecting money to treat my disease."
With the help of friends, Gao took Liu to a hospital in Tianjin to do a complete checkup on his legs last year. "There is a glimmer of hope that Liu can be treated to stand and walk. I hope he can master the skills of making dough figurines so that he can make a living or find a job in the future," Gao said.
Currently, Gao has six apprentices, including one from Shanxi province and one from the Inner Mongolia autonomous region, learning figurine making at her workshop which she rents for 1,000 yuan a month.
"So many students - I can't remember all of their names, but I hope all of them will have a kind heart to help people in need," she said.
For all of her students, Gao will first teach them how to make a rose which constitutes her teachings and wishes.
"While making the rose, I tell them the stamen symbolizes the need to focus on what we are pursuing, and the ten petals contain my wishes to them - I wish them all to be roses every day - and the green leaves express my wish for them to be healthy," Gao said.
zhaoruixue@chinadaily.com.cn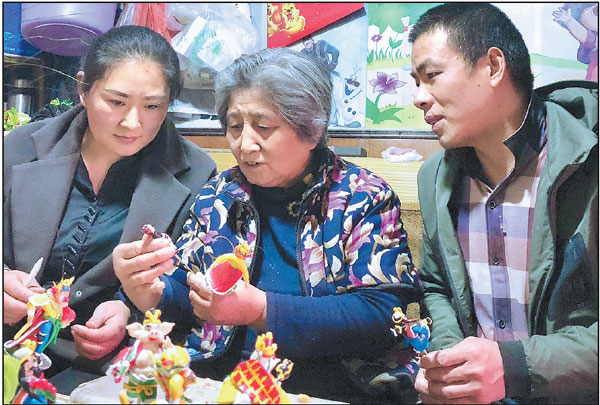 Gao Guiying teaches two of her apprentices how to make dough figurines at her workshop in Jinan, Shandong province.Photos By Zhao Ruixue / China Daily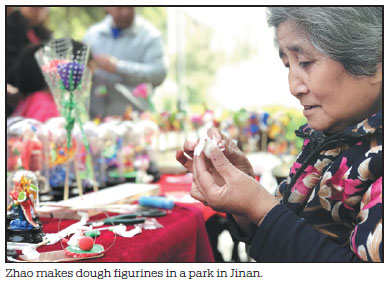 (China Daily 05/09/2019 page7)