Folk artists create incredible pit carvings in Weifang
(chinadaily.com.cn) Updated: 2019-04-23
Weifang peach pit carving, a state-level intangible cultural heritage, is a time-honored art treasure in Weifang, Shandong province.
In the city's intangible cultural heritage protection center, local carving artists demonstrate their skills on peach pits and turn the ordinary kernels into artworks.
"The most important thing in peach pit carving is to calm down and be persistent," said Liu Bin, head of Weifang's peach pit-carving association.
He spent eight month creating a 2.3-gram peach pit carving artwork called "crab basket" after four years of designing.
In his view, no matter the topic figurines, landscapes, boats or pavilions can be "vividly and gracefully" created on the peach pit, with the natural lines on the peach pit cleverly blended into the carved patterns and merged into the sculpture.
"At present, Weifang's peach pit carving association is actively tutoring apprentices. The inheritance of the technique is booming," he said.
Liu Wenhu, deputy head of the association, said that the young generation are fond of the art and inject innovative ideas into it, which gives the carvings vitality and brings new life to the ancient art.
He also emphasized the importance of courses such as sculpture and Chinese painting in inheriting the peach pit carving technique.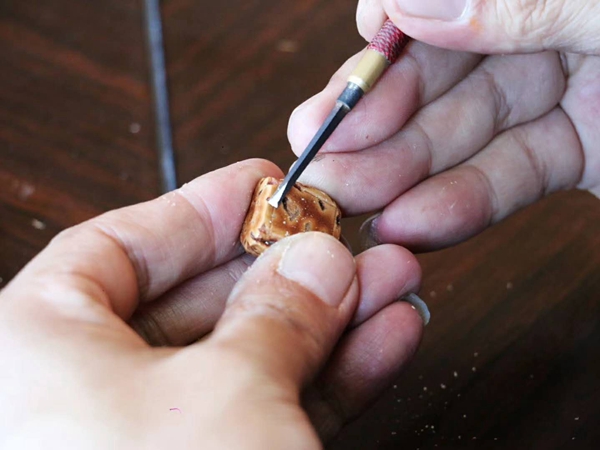 An artist works on a peach pit carving in the intangible cultural heritage protection center in Weifang, East China's Shandong province, April 18, 2019. [Photo provided to chinadaily.com.cn]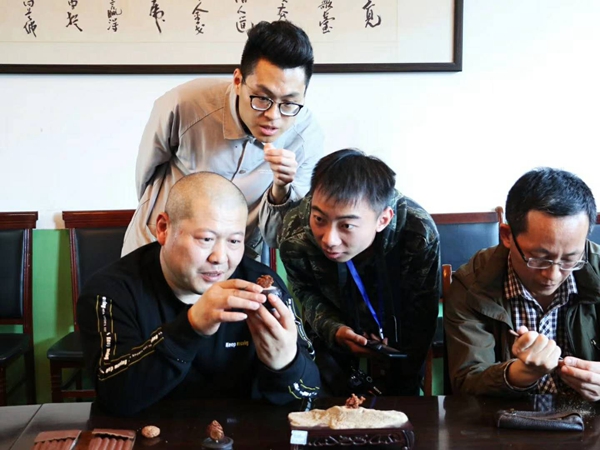 A local carving artist demonstrates his skills on peach pits to reporters in the intangible cultural heritage protection center in Weifang, East China's Shandong province, April 18, 2019. [Photo provided to chinadaily.com.cn]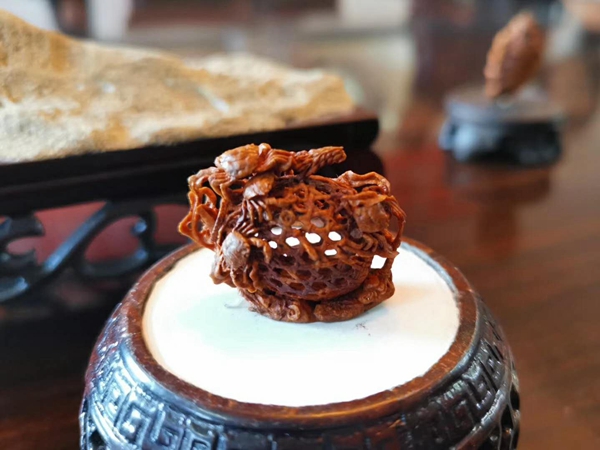 One of local artists' carvings is displayed in the intangible cultural heritage protection center in Weifang, East China's Shandong province, April 18, 2019. [Photo provided to chinadaily.com.cn]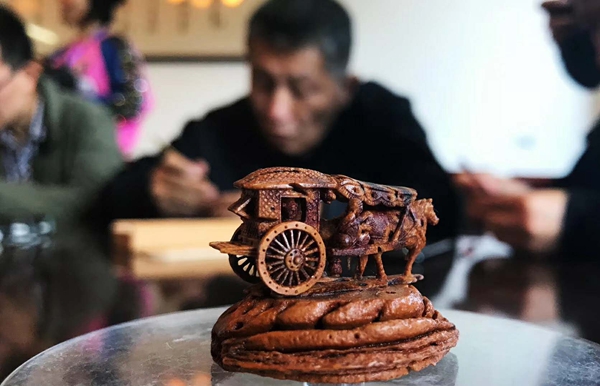 One of local artists' carvings is displayed in the intangible cultural heritage protection center of Weifang, Shandong province, April 18, 2019. [Photo provided to chinadaily.com.cn]