Major arts and crafts event to open in Shandong
(chinadaily.com.cn) Updated: 2019-04-22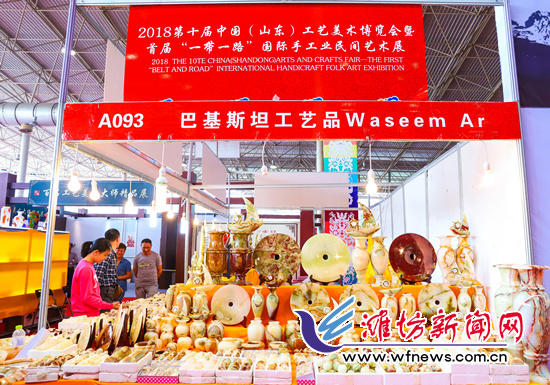 A file photo of the 10th China (Shandong) Arts and Crafts Expo held in Weifang,  East China's Shandong province. [Photo/wfnews.com.cn]
The 11th China (Shandong) Arts and Crafts Expo is set to take place in Weifang, nicknamed the "World Capital of Kites", in Shandong province from April 27 to 30.
The four-day event will feature esteemed artists and craftsmen from all over the country who will demonstrate their unique skills in dough modeling, embroidery, paper cutting, nut carving, kite making, and many other art forms.
The expo will cover nearly 17,000 square meters and will feature 800 standard booths showcasing handiworks such as sculptures, lacquerware, jewelry, colored glaze, porcelain, metal works, rosewood furniture, carpets, and plant fiber-weaving.
Twelve exhibition areas featuring art exchanges, works by renowned artists, kite-themed creative cultural products, a kite-making competition, rosewood furniture, folk tourism products, and creative works designed by college teachers and students will be available to satisfy the diverse preferences of visitors.
Additionally, a Belt and Road-themed intangible cultural heritage exhibition, arts and crafts industrial summit, intelligent property protection lecture, patient application consulting event, and Weifang arts and crafts exhibition will be held during the expo to showcase how Shandong's arts and crafts have evolved over the past seven decades.
The expo, co-organized by the Shandong Arts and Crafts Association, Shandong Arts and Crafts Academy, and Weifang Arts and Crafts Association, started in 2009 and has now developed into an influential industry event.
The expo aims to increase the exposure of Shandong's traditional culture and offer a platform for domestic artists and craftsmen to exchange techniques.