Shandong time-honored brands celebrate New Year at Palace Museum
(chinadaily.com.cn) Updated: 2019-02-14
A total of 40 Shandong-based time honored brands as well as five intangible cultural heritage items took part in a Chinese New Year celebration held at the Palace Museum in Beijing from Jan 28 to Feb 10.
Jointly hosted by the Shandong provincial department of commerce and the Palace Museum, the event gathered more than 150 time-honored brands and various intangible cultural items from across the country, offering a golden opportunity for visitors to get a glimpse of the country's century-old traditional brands and unique New Year customs.
The so-called time-honored brands, or "laozihao" in Chinese, refer to companies that sell products with famous names and long histories. More than 60 percent of them are engaged in pharmaceuticals, food and catering.
Tsingtao Brewery, a leading Chinese beer producer from Shandong's prosperous coastal city Qingdao, attracted hordes of visitors to buy its renowned products despite the freezing weather.
"Our special treats for the Spring Festival are extremely enticingly designed and quite popular among consumers, especially the young people who post many photos or selfies with the festive and exquisite beer products on social media platforms," said Pang Ning, a member of staff from the brewery's marketing department.
Pang said that the company will launch more products with retro designs next year as the event was designed to promote time-honored brands rather than sell products.
Ancient imperial tributes consecrated from Shandong such as ejiao (donkey-hide gelatin, a traditional Chinese health improvement product), millet and Yutang pickle were also displayed at the event.
Yutang pickle is a famous side dish produced in Shandong's Jining city with more than 300 years of history.
"It has been 130 years since Yutang pickle first entered the imperial palace in 1889," said Yang Jun, a sales staff member.
"It is a perfect opportunity to promote our products and raise its profile as thousands of visitors from across the world visit the Palace Museum every day."
Li Junqiang, deputy secretary general of the Shandong provincial time-honored enterprises association, said that the event will help to revitalize the time-tested brands and preserve culture and memories for future generations.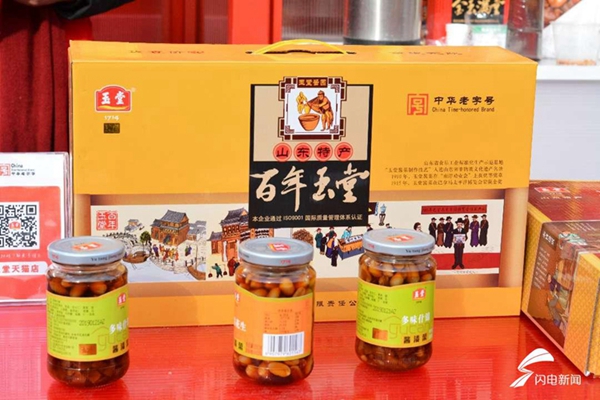 Yutang pickle, a famous side dish produced in Shandong's Jining city, is exhibited at a Chinese New Year celebration at the Palace Museum in Beijing. [Photo/iqilu.com]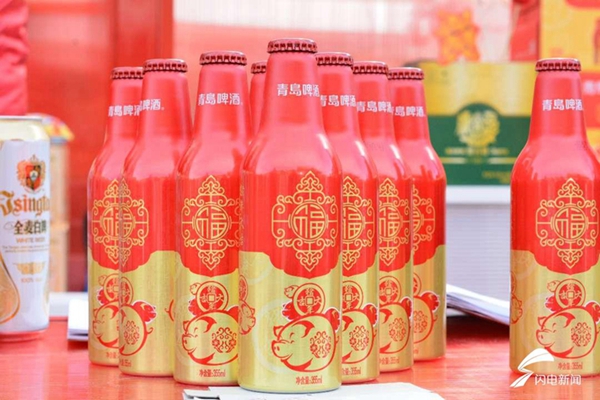 Bottles of Tsingtao Beer in special festive package are seen at a Chinese New Year celebration at the Palace Museum in Beijing. [Photo/iqilu.com]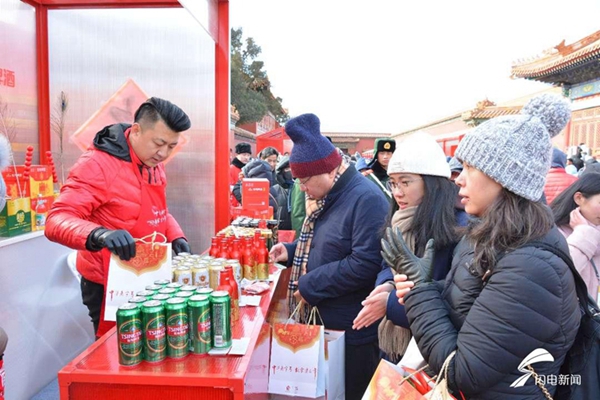 The Tsingtao Beer booth attracts many visitors at a Chinese New Year celebration at the Palace Museum in Beijing. [Photo/iqilu.com]