Taishan jade: one of the treasures of Tai'an
(chinadaily.com.cn) Updated: 2018-09-20
Tai'an, Shandong province has been developing its Taishan jade industry in recent years. A group of journalists from around the country are visiting the city from Sept 18-21, to better understand and report its achievements in the Taishan jade industry.
Taishan jade, or Mount Tai jade, is one of the Taian Sibao, meaning the four treasures of Taian. The other three are Mount Tai tea, Mount Tai hemp, and Feicheng (a county-level city of Tai'an) mahogany.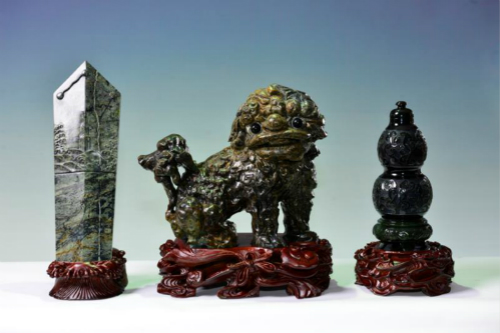 A set of Taishan jade carving works. [Photo provided to chinadaily.com.cn]
Having originated in Mount Tai in Tai'an, Taishan jade is usually black, blackish green, or light green, and is more rigid than other types of jade. With a history of more than 6,000 years, it has long been associated with the implied meanings of good wishes for safeness and good luck, and warding off evil spirits.
By combining with its rich tourism resources and the local culture, Tai'an has created a batch of characteristic original works made of Taishan jade, including Shigandang, and Bi Xia Yuan Jun (The Mount Tai Goddess).
A total of 415 prizes were awarded to Taishan jade carving works in the past few years, such as the gold award of the China Tourist Commodities Competition in 2012, 2014 and 2018. The series of works Kai Xin Tai Ji (Happy Tai Chi) was awarded the Special Award of Merit by the Gems & Jewelry Trade Association of China and was specially reported upon by China Central Television.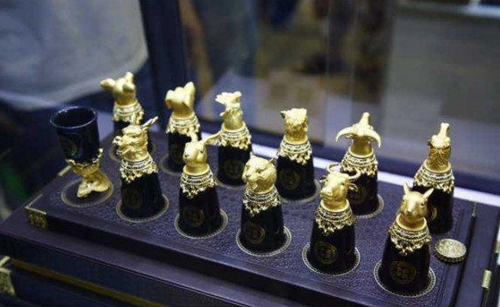 The twelve creatures of the Chinese zodiac made of Taishan jade are displayed in Tai'an, Shandong province. [Photo provided to chinadaily.com.cn]