Colored glaze industry booms in Shandong province
(chinadaily.com.cn) Updated: 2018-08-31
As China's largest production and distribution center of glaze products, Boshan district in Zibo city, Shandong province opened the 2018 Boshan Colored Glaze Culture and Art Festival on Aug 28 to promote the colored glaze industry and tourism development.
At the opening ceremony, local officials unveiled the plaque of the "National Cultural Export Base" for Boshan district and presented awards to the winners of the China (Boshan) International Colored Glaze Innovation Design Competition.
Meng Lingyan, director of the China Domestic Glass Association, addressed the ceremony, saying that Boshan glaze is a precious intangible cultural heritage and more talents are welcome to engage in Boshan colored glaze industry.
The festival also attracted international artists such as a British glass artist who said more platforms were expected to be built for communication and exchanges between Boshan and global glass arts.
Boshan district aims to promote glaze culture and expand international cooperation on glaze through the art festival, said Ma Xiaolei, deputy secretary of the Zibo Party committee.
Boshan glaze art boasts a long history with the glaze being produced in batches since the Tang Dynasty (618-907). The earliest extant old glaze kiln ruin in China was found in Boshan. It's also the birthplace of the Chinese first glaze monograph, first flat glass factory and first glaze museum.
At present, Boshan district has over 4,000 glaze craftsmen, including 41 national-level artists and 77 provincial-level artists. There are more than 200 glaze enterprises producing around 10,000 varieties of colored glaze. Their products are sold to over 100 countries and regions.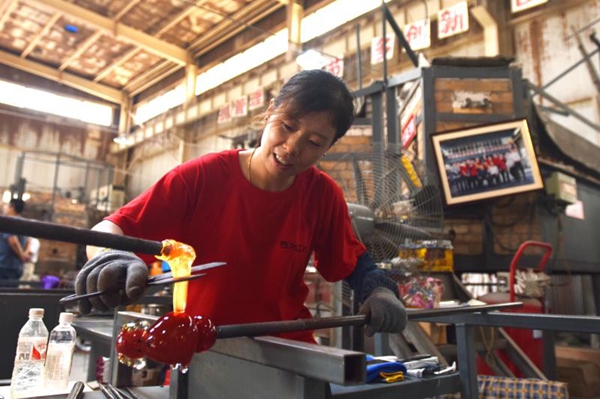 A colored glaze maker works in a workshop in Boshan district of Zibo, East China's Shandong province. Boshan, one of the most famous places for the colored glaze products, capable of mass production since Tang Dynasty (618-907), is still a key player in the colored glaze market covering more than 100 countries and regions. [Photo provided to chinadaily.com.cn]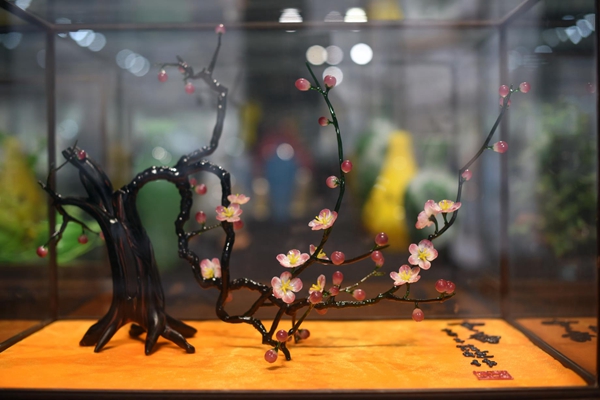 A colored glaze product is on display in the Boshan district of Zibo, Shandong province. [Photo provided to chinadaily.com.cn]