Ancient Chinese dinning rituals beguile SCO media
By Xiang Wenjian (chinadaily.com.cn) Updated: 2018-06-04
A delegation made up of 37 media agency leaders from SCO countries kicked off a two-day tour of Qufu city, birthplace of Confucius, in East China's Shandong province on Saturday evening.
As a follow-up to the first SCO Media Summit that took place in Beijing a day earlier, the event was designed to provide opportunities for the media to better explore and understand China through an array of traditional cultural activities.
Referring to the dinner that was served in the style of China's Han Dynasty (202 B.C.-220 A.D.), Priyanka Tikoo, deputy executive editor of the Press Trust of India, the largest news agency in India, said it was the most fascinating part of the first day of the tour.
"This place (Qufu) is really amazing. It's beautiful, but I think the best part of the experience was having the dinner, because it took us back through the history of another culture," she commented.
Her view resonated among other attendees.
Iryna Akulovich, general director of the Belarusian Telegraph Agency, said that the rituals prior to the dinner are not commonly seen in her home country and were "nice", adding that the cuisine that was served deserves the highest recognition across the world, hailing it as both "healthy and tasty".
"It's different, first of all, from traditional Belarusian cuisine, where our beloved dishes consist mainly of potatoes and meat," she said. "The dishes had very interesting sauces and spices, which make it both sweet and tasty."
Previously having studied and worked in China, Munkhtuul Banzragch, editor-in-chief of Montsame News Agency, also shared her opinion on the dinner, saying she felt like she had stepped back in time.
"I felt like I was acting in a film, going through time to the era when Confucius was alive and where people were not allowed to chat over a meal,"
Banzragch said in fluent Chinese.
When asked about her first impression of Qufu, she spoke about the city's serenity. Unlike many metropolises that have been negatively affected by rapid urbanization, she noted how Qufu is still "a land of idyllic beauty".
"Considering its serenity, it's no wonder how it could be the birthplace of Confucius," she commented.
In addition to the dinner, on the first day the media group also participated in activities such as transcribing classic quotes from the Analects, a record of Confucius' ideas and sayings, with other similar activities expected for Sunday.
A scholar, educator and philosopher, Confucius (551-479BC), founded a school of thought known as Confucianism that was deeply influential on later generations. He was also the first to set up private schools in China that enrolled students from different social classes.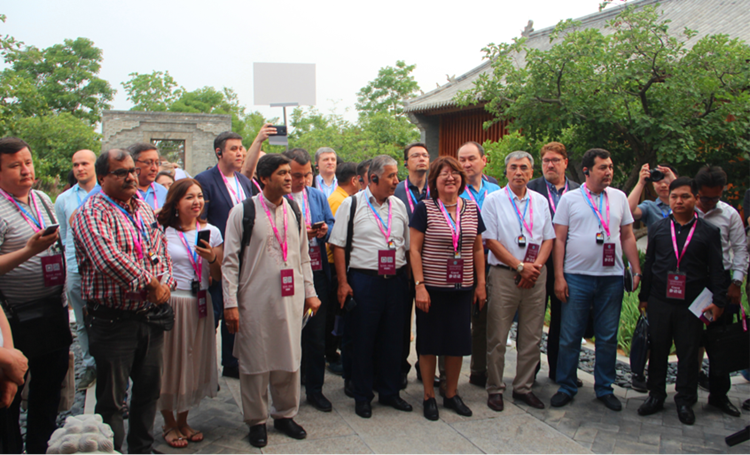 A delegation made up of 37 media agency leaders from SCO countries kicks off a two-day tour to Qufu city, birthplace of Confucius, in East China's Shandong province on Saturday evening. [Photo/Xiang wenjian from chinadaily.com.cn]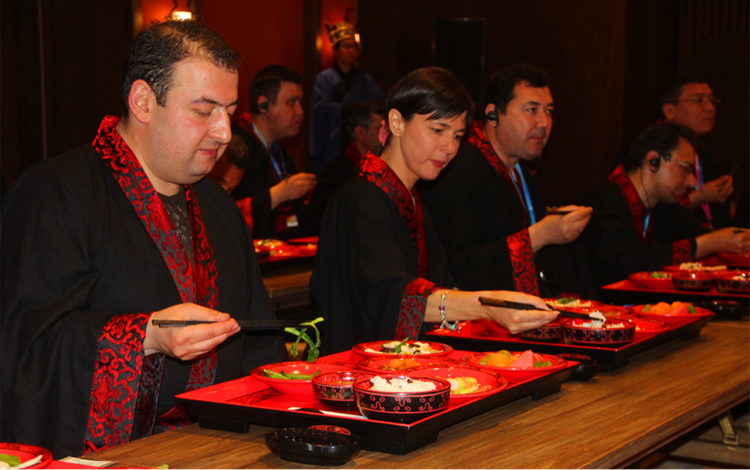 Wearing a Han Dynasty robe, Iryna Akulovich, general director of the Belarusian Telegraph Agency (Middle), eats traditional Chinese cuisine with chopsticks. [Photo/Xiang wenjian from chinadaily.com.cn]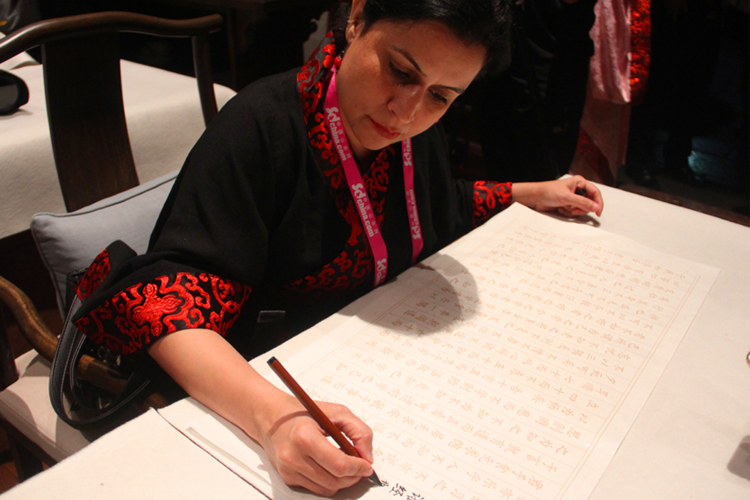 Priyanka Tikoo, deputy executive editor of the Press Trust of India, transcribes classic quotes from the Analects, a record of Confucius' ideas and sayings. [Photo/Xiang wenjian from chinadaily.com.cn]