Children learn peach pit carving in Shandong
(chinadaily.com.cn) Updated: 2018-05-23
Zhu Xiongying, a peach pit carving master from Shandong's Zaozhuang city, offered a special lecture on the age-old miniature folk art at the weekly Shandong intangible cultural heritage classroom on May 19 in Jinan, Shandong province.
At the beginning of the course Zhu introduced the historical development and cultural implications of the folk art and showed some of his peach pit carvings to the kids.
All the children were instantly intrigued by the exquisite creations, and their curiosities were lit while learning how to carve the intricate designs on such small fruit kernels.
However, this time around, kids didn't have a chance to try their hands at the demanding folk art.
"The elaborate handicraft requires years of learning and practicing and the sharp tools and solid peach pits are not suitable for young children," said Zhu.
Instead, as a substitute to the original tools, Zhu handed out bar soaps and sharpened chopsticks to the kids.
Zhu showed the kids the detailed techniques for carving curtain patterns out of the soaps.
"The art requires patience and circumspection and is full of vitality and creativity. You can turn a peach pit or a prosaic soap into an incredible artwork," said Zhu.
"However, it takes time and effort to master the exceptional carving techniques and artistic creativity."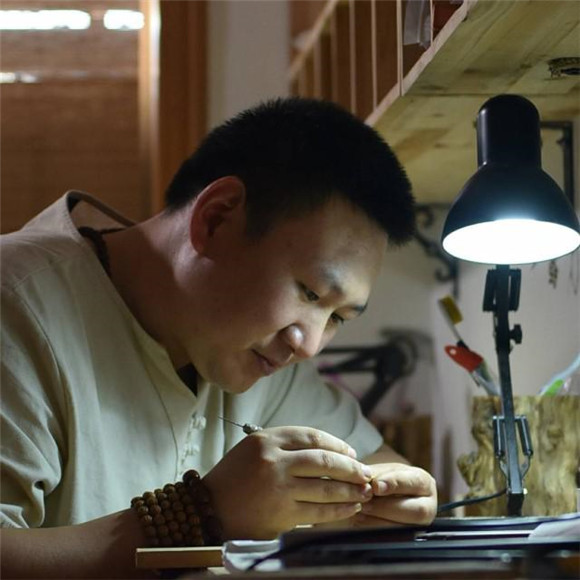 Zhu Xiongying, a peach pit carving master from Shandong's Zaozhuang city, works on a peach pit carving in his studio. [Photo/sdpcc.cn]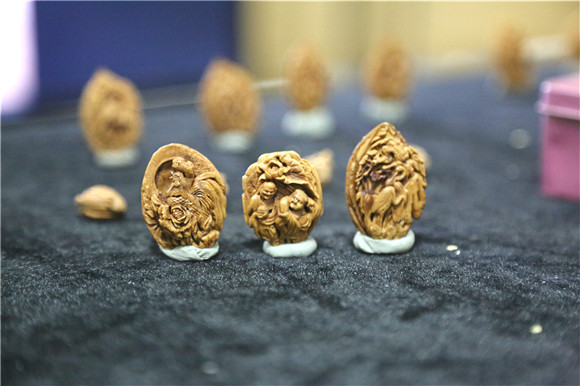 Some of Zhu Xiongying's peach pit carvings are displayed at the weekly Shandong intangible cultural heritage classroom on May 19 in Jinan, Shandong province. [Photo/sdpcc.cn]