Wanggezhuang New Year fair beckons in Qingdao
(chinadaily.com.cn) Updated: 2018-02-07
Once we reach the twelfth month of the lunar Chinese calendar (known as Layue in Chinese), people all over the country get busy purchasing goods and decorations for the Chinese New Year.
In the eastern coastal city of Qingdao, Shandong province, Wanggezhuang New Year fair which opened on Feb 4 is filled with a festive atmosphere, attracting crowds of local residents and customers from surrounding cities to enjoy the shopping spree prior to the Chinese New Year.
The Wanggezhuang New Year fair consists of more than 800 booths, divided into several sales sections such as dried seafood, fresh sea food, fruit, daily necessities and flowers.
At the fair, customers can buy more than 200 varieties of dried seafood, along with all kinds of local specialties and New Year decorations.
"It's been quite a while since I have experienced such a festive fair," said a man surnamed Du from Shenyang, "I bought plenty of dried fish as gifts for my relatives."
"Though it's crowded, the fair is warm and festive and it heralds the coming of the Chinese New Year," said a local resident surnamed Yu.
"I came here specially to buy Wanggezhuang steamed buns for my friends in other cities. They fell in love with the local specialty when they first sampled it in Qingdao."
Date of the Wanggezhuang New Year fair: Feb 4 to 14
Address: Wanggezhuang Likelai Pedlars' Market, Laoshan district, Qingdao
Bus route: Bus No 106, 109, 110, 371, 383 to the Wangezhuang East Station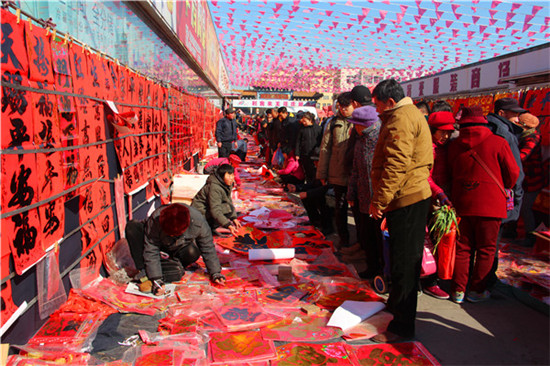 The atmosphere provides a festive feel with red lanterns, couplets and window paper-cuts hung in many booths at the Wanggezhuang New Year fair in Qingdao, Shandong province. [Photo provided to chinadaily.com.cn]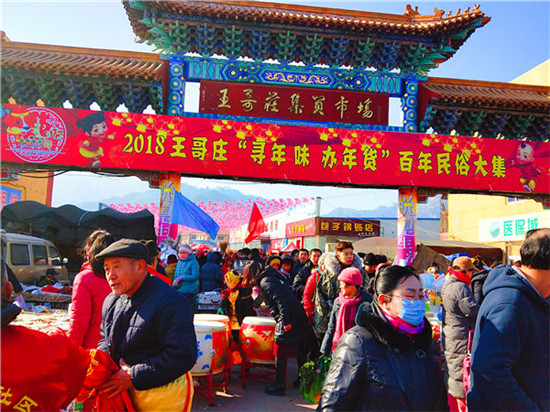 The Wanggezhuang New Year fair is jam-packed with people coming and going all the time. [Photo provided to chinadaily.com.cn]