Traditional paper-cutting adds festive touch to qipao
(chinadaily.com.cn) Updated: 2018-02-05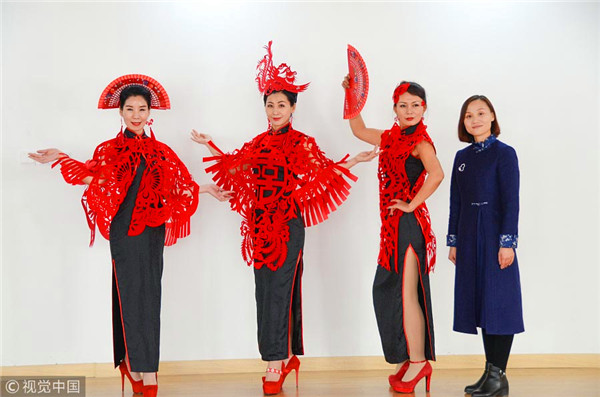 Models present new designs that combine qipao, traditional Chinese women's one-piece dresses, with paper-cutting, in East China's Liaocheng, Shandong province, on Feb 4, 2018. [Photo/VCG]
Paper-cuttings are traditionally home decorations during festive days such as weddings and the lunar New Year. Liang Ying, an inheritor of the age-old craft, has taken a creative approach and applied them to fashion designs.
To usher in the upcoming Year of the Dog, Liang has used the auspicious color of red to create head accessories, capes, and earrings with her paper-cutting skills.
Liang, 36, is an inheritor of paper-cutting in East China's Liaocheng, Shandong province. She has been dedicated to the folk craft for 12 years.
The idea of infusing paper-cuts with qipao came to her mind during a session on intangible cultural heritage with her peers. In order to realize the design concept, Liang spent a month looking for suitable paper types, since the traditional material used for paper-cutting is easily broken if bended.