Sun Zi's Art of War still relevant to business leaders
By Yang Cheng (China Daily) Updated: 2017-07-18
When Dongying Day during Expo 2017 Astana is held on Sept 8, participants will be surprised by the rich resources in Dongying and fascinated to discover that Guangrao county of Dongying was the birthplace of China's military strategist Sun Zi 2,500 years ago.
Numerous business tycoons in the world, such as Konosuke Matsushita, have long worshipped Sun Zi's cunning and savvy strategies. Local entrepreneurs in Dongying are no doubt making in-depth research on and benefiting from Sun Zi's outstanding gifts to the world.
Local students study Sun Zi from a young age at their primary schools, said local officials, and locals believe that research on Sun Zi has widespread relevance.
Dongying is home to many leading domestic companies and their executives share their insights on Sun Zi, and in particular, how they have applied his wisdom to their business and their work to realize the vision of the Belt and Road Initiative.
Yuan Dong, senior vice-president of Shandong Kerui Oil and Gas Engineering Group, one of the country's largest oil equipment solutions providers to 57 countries around the world, said: "Talking about the Belt and Road Initiative, from my personal point of view, I think for enterprises, they should master a key strategy in the book Art of War, that is shun shi er wei, namely catching up with trends or riding the tide."
Currently, Kerui has taken the lead in the B&R. It has established 57 branches and built up a sophisticated global marketing network.
At present, Kerui has more than 80 core patents, which consolidate its position as a world-leading oil drilling equipment provider.
In May 2016, Kerui inked an agreement with Uzbekistan to build 46 gas stations in the country with a total of investment of $100 million.
It has also signed a rig equipment project agreement with the Kuwait National Petroluem company with a total value of $120 million.
Also in Dongying, China Wanda Group is different from the billionaire Wang Jianlin's Dalian Wanda Group.
Zhang Xueshan, president of the Wanda Rubber Group, a branch company under China Wanda, preferred to be 'modest' in sharing his insights on Sun Zi's strategies in the business world and told China Daily that in running company, the study of the Sun Zi's military art is a lifelong process and devotion to its study should be kept on forever.
In fact, State-owned China Wanda was born 10 years before the Fortune 500 Dalian Wanda.
The China Wanda didn't sue Dalian Wanda for its name, refused to sell its businesses to it, but decided to cooperate with it in the property sector in the city, local officials said.
In B&R Initiative, China Wanda has not only teamed up with Dalian Wada, it has also joined hands with several Fortune 500 companies including Bridgestone and Shell.
Its products include rubber, cables and chemicals that have been exported to more than 150 countries and regions in the world.
"The B&R has brought enormous opportunities for us. China Wanda plans to foray into the logistics sector, securitization of its assets and breaking up the monopoly in rubber in many countries," Zhang said.
In 2016, it invested $200 million to set up a tire production base in Malaysia and more such campaigns are on the way.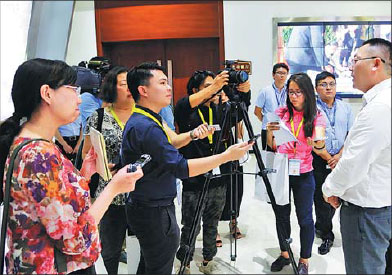 Yuan Dong (right), senior vice-president of Shandong Kerui Oil and Gas Engineering Group, answers reporters' questions.Ma Renliang / For China Daily
(China Daily 07/18/2017 page12)