A hall dedicated to 'Military Saint' Sun Tzu
(Chinadaily.com.cn) Updated: 2017-06-30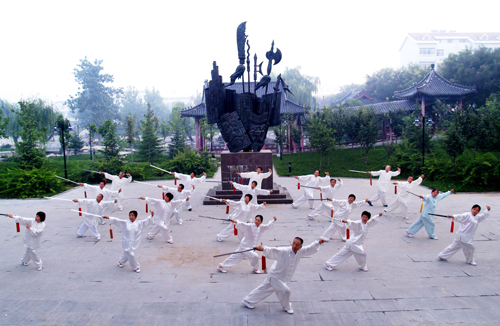 The entire building complex of Sun Wu Hall covers an area of 13,000 square meters. It is simple, elegant and awe-inspiring. Sun Wu Hall's main area, Saint Hall, which was built during the Southern Song Dynasty, is the only surviving wooden palace built during the Song Dynasty in Shandong province. The hall houses a statue of Sunzi and more than 10 themed exhibitions, showcasing the glorious life of Sunzi, his influence on the world and recent research and academic achievements relating to Sun Bin's Art of War.
Sun Wu, known as Sunzi or Sunwuzi, was a famous philosopher and military strategist in ancient China. He was born in Le'an (now Shandong's Guangrao county) during the Spring and Autumn Period (770-476 BC). Sun was later known as the "military saint".
His book Sun Bin's Art of War is the most famous military work of ancient China and is widely regarded as the first book to be published on the topic of military strategy. The book was completed 2,500 years ago and was studied throughout the following dynasties. It is often referred to in the fields of politics, economics, business, culture and diplomacy, and is regarded as one of the most outstanding items of cultural heritage in the country. The book is famous all over the world and has been translated into many languages, and has played an important role in military history.
As Sun's hometown, Guangrao county has been taking steps to promote Sunzi culture since the 1990s. The county has set up a special cultural research institute for Sunzi, the Guangrao Sunzi Research Center. Guangrao county will infuse Sunzi culture into every aspect of the city's construction. It established Sun Wu Hall based on the wooden palace built during the Southern Song Dynasty, which has become a gathering place for people to learn about Sunzi. It also built Sunzi-themed cultural squares, parks and a military library.