Annual Dongyue Temple Fair opens in Tai'an
(chinadaily.com.cn) Updated: 2017-04-11
The curtain rose on an annual folk festival – the Dongyue Temple Fair -- on April 11 in sacred Mount Tai of Tai'an city, Shandong province.
The opening ceremony was celebrated in grand style, with an array of art and cultural performances and custom shows attracting hordes of tourists and local residents.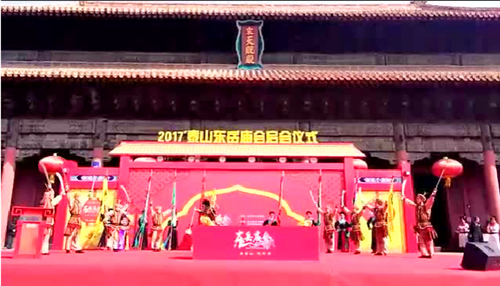 The opening ceremony of the Dongyue Temple Fair is held on April 11 at Dai Temple on the sacred Mount Tai of Tai'an, Shandong province. [Photo/Wechat account: hitaishan]
According to the Tai'an government, this year the temple fair will last until April 16. It is designed with one main venue at the Dai Temple to demonstrate local folk customs and intangible cultural heritages, and two branch venues to host commodity exchanges.
Dongyue Temple Fair at Mount Tai was listed as a national intangible cultural heritage by the State Council for better preservation and development of the country's temple fair culture in 2008.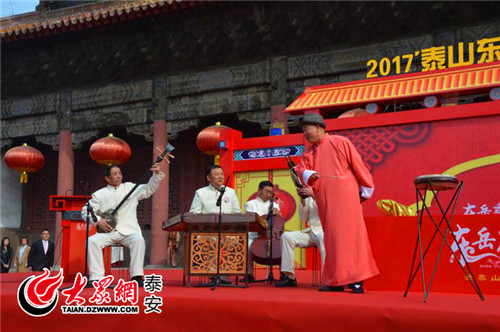 An array of cultural performances and custom shows are performed at the annual grand pageant at Mount Tai of Tai'an, Shandong province. [Photo/dzwww.com]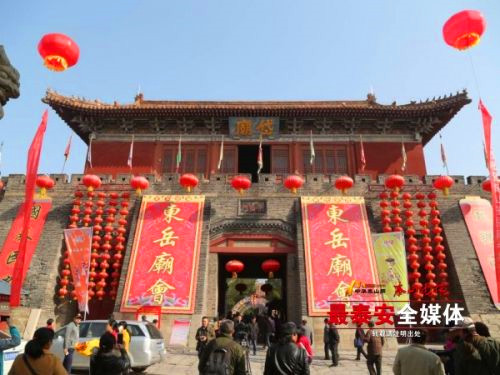 The lofty and magnificent Dai Temple is decorated with lanterns and colored banners to welcome visitors during the Dongyue Temple Fair. [Photo/my0538.com]