Exhibition of Taohuawu woodcuts opens at Shandong Art Museum
(chinadaily.com.cn) Updated: 2017-04-10
Shandong residents can glimpse Suzhou's glorious past through a special exhibition of the city's ancient Taohuawu woodcut prints unveiled on April 6 at the Shandong Art Museum in Jinan, capital of Shandong province.
Jointly organized by the Suzhou municipal center of public culture, the Shandong Art Museum, the Suzhou Art Museum and Suzhou Woodcut Painting Academy (Suzhou Taohuawu Woodcut Prints Museum), the exhibition will run until May 7, with 113 Taohuawu New Year woodcut prints on display.
Wood engraving artists from the Suzhou Taohuawu Woodcut Prints Museum will demonstrate the ancient craft of making New Year woodcut prints during the exhibition.
Taohuawu New Year woodcut prints, or nianhua, are used as decorations during Spring Festival. They are usually placed on doors or walls to ward off evil spirits and bring good luck to families.
The craft originated from block printing in the Song Dynasty (960-1279) on Taohuawu street in Suzhou, Jiangsu province, having evolved from the region's prevailing embroidered portraits.
It was included in the first national intangible cultural heritage list released by the State Council in 2006.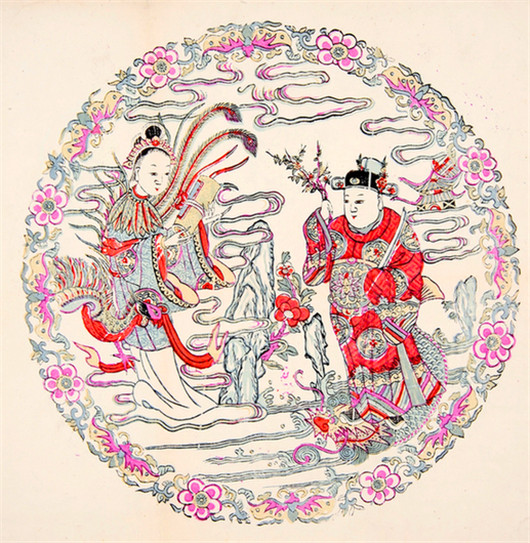 A Taohuawu New Year woodcut print of the Qing Dynasty (1644-1911) on display at a Taohuawu nianhua exhibition held at the Shandong Art Museum. [Photo provided to chinadaily.com.cn]