Jiaodong folk paper-cut art exhibition to open in Yantai
(chinadaily.com.cn) Updated: 2017-01-19
The Jiaodong folk paper-cut art exhibition, sponsored by the Ministry of Culture, will open at Yantai Art Museum on Jan 21.
Featuring around 60 pieces of Jiaodong traditional paper-cut works, the rich content, high quality and diverse styles, the exhibition aims to enrich the life of Yantai residents, particularly as the festival season approaches.
Jointly organized by Yantai Art Museum and the Yantai Bureau of Culture, Broadcasting, Television, Press and Publication, the exhibition will last until Feb 12, when it will tour to other cities, including Tianjin.
As an added bonus, local paper-cut artists and paper-cutting inheritors will demonstrate their exquisite crafts to visitors on Jan 21 during the exhibition's opening ceremony. Lectures and hands-on experience courses on paper cutting will also take place.
Paper cutting is one of the most popular decorative Chinese handicrafts. Its history can be dated back to the sixth century, from which point paper cutting became popular, especially during Chinese festivals. The craft spread to the rest of the world in the 14th century, with different regions adopting their own cultural styles.
Paper cuttings continue to be popular because of their expression of hope. Wishes for wealth, health and longevity are conveyed through paper cuttings. As a reflection of its philosophical origins, paper cutting is as comprehensive as it is attractive. Moreover, folk paper cutting conveys the content and nature of traditional culture with its own particular language.
As an art form, it has gained much attention in recent decades, and was included on the UNESCO World Intangible Cultural Heritage List in 2009.
Usually, the artworks are made of red paper, as red is associated with festivities and happiness in Chinese culture. They adorn walls, windows, doors, pillars, mirrors, lamps and lanterns, and can also be given as gifts.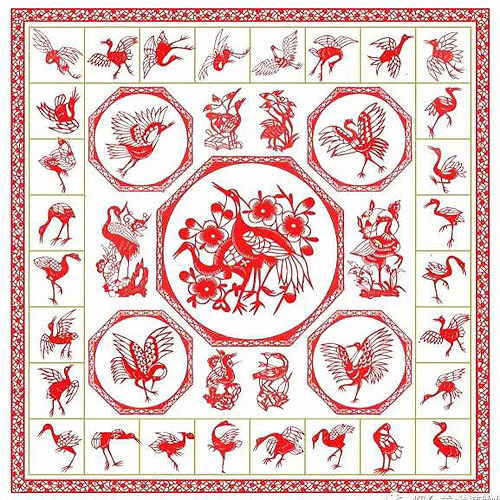 A paper-cut work of Bai He Qing Shou(The blessing of longevity by hundreds of cranes). [Photo/jiaodong.net]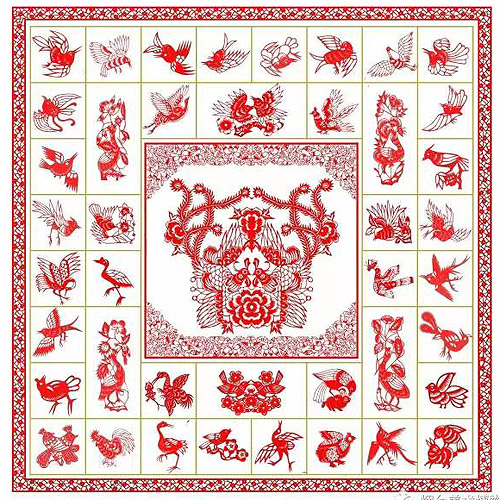 A paper-cut work of Bai Niao Chao Feng (Birds paying homage to the phoenix). [Photo/jiaodong.net]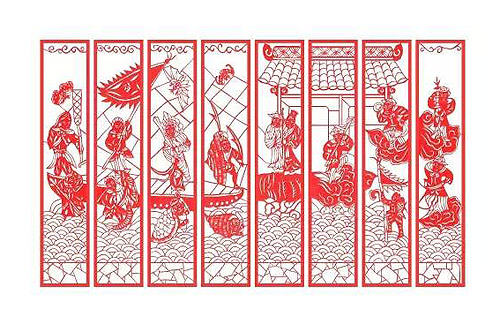 A paper-cut work of "Legend of the White Snake" (Bai She Zhuan). [Photo/jiaodong.net]